BYU midfielder Mikayla Colohan got drafted by the Orlando Pride, but will stay in Provo for now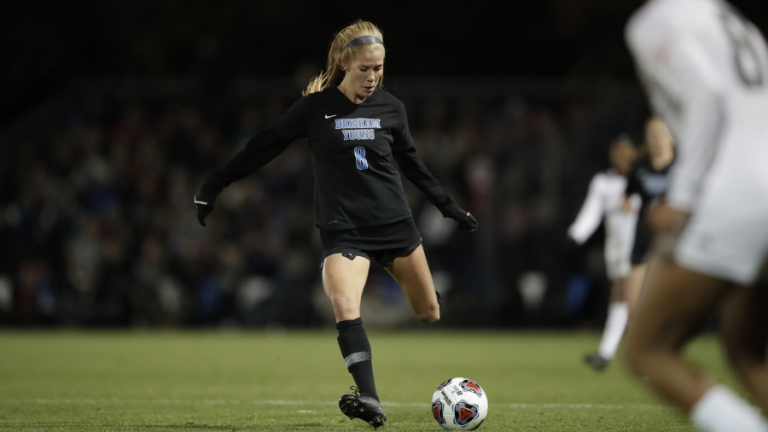 PROVO, Utah – The coronavirus pandemic initially took away Mikayla Colohan's senior season, but gave it back and then some.
Because of the pandemic, the soccer season — which usually takes place in the fall — was postponed until the spring. That left Colohan in a bit of a predicament.
Usually, the season wraps up before the NWSL Draft. So, the senior was unsure of what to do: stay and play for the Cougars, or try going pro.
"We kind of went to practice one day and it was announced that [the season] was officially canceled," Colohan said. "I think everyone was kind of caught off guard and didn't really know what to do from there because … it felt completely stolen. It was just kind of a bummer, especially for us seniors and our last year."
But in December, the NWSL made a change in its draft rules. Division I athletes had the options of either reporting to their NWSL club immediately or at the conclusion of the spring collegiate season.
Colohan's decision was made even easier when the NWSL made another change shortly before the draft: all Division I players who have used up three years of eligibility were made eligible for the draft, whether they declared or not.
That's how Colohan, who scored 15 goals and had five assists in the 2019 season, found herself selected with No. 14 overall pick by the Orlando Pride.
On Jan. 13, Ian Fleming, who just a day prior was announced as the club's new general manager, made the call to Colohan to share the news.
"We're excited to have you," Fleming said in the call. "We feel like we got a bit lucky that you fell into our laps there. … We've heard nothing but good things, and we think you have a lot to offer. So, we look forward to have you here."