BYU puts up dominant 105-60 win at Portland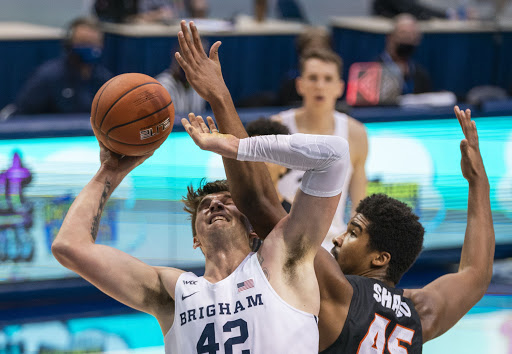 PROVO, Utah – BYU traveled four days to play one game.
After arriving in San Diego to play the Toreros on Tuesday, the Cougars were left without a game just hours before the scheduled tipoff. Instead of coming back to Provo, BYU continued its original travel plan and continued to Portland on Wednesday.
Because it took longer to play, Gideon George took full advantage of the opportunity. In his first career start at BYU, the junior posted a double-double to lead the Cougars to a dominating 105-60 win at Portland on Thursday.
The win improved BYU to 15-4 overall on the season and 6-2 in West Coast Conference play. Portland (6-11, 0-8) has yet to win a league game and was handed its eighth consecutive loss.
"He's growing," BYU coach Mark Pope said of George on the Post Game Show. "He's done a great job taking advantage of opportunities that he's had. And he's clearly — we've known for a long time — he's got a huge ceiling. So, this is another positive step for him."
George, a New Mexico Junior College transfer, put up a game- and career-high 19 points (8 of 12 from the field) and brought down 13 rebounds — one more than all the Pilots combined.
"It's incredible," Pope said. "He was spectacular tonight. I thought he was really selective. I thought he was smart with kind of letting the game come to him a little bit. And I thought that he did an unbelievable job on the boards."
In fact, BYU outrebounded Portland 46-12 and outscored the Pilots 18-0 in second-chance points. And although the Cougars had two more turnovers, they also outscored the Pilots 16-8 in points off turnovers.
The strong performance from the Cougars in all facets helped them put up some of their best offensive stats of the season.
BYU shot 63% from the field and from the 3-point line and six different players scored in the double digits. Besides George, Matt Haarms and Brandon Averette scored 15 points each, Alex Barcello and Connor Harding had 12 points each and Caleb Lohner scored 11 points.
Pope believes the team had a chance to do some things differently than before, and he was proud of the way his team never let the game get away from them or take their feet off the gas.
"I think this was an unbelievable night for our locker room," Pope said. "We're going to face a bunch more challenges as we go through these next three weeks. But that's what I'm always monitoring, is 'where are we in our locker room?' And we could have been a thousand different places, but, man, I'm so proud of these guys."
One of the upcoming challenges comes on Monday, when BYU hosts the No. 1 team in the nation.
In a recent change of schedule, the Cougars will now play Gonzaga 9 p.m. on Monday — a few weeks before the originally scheduled game. Even though it's not a Senior Night, regular-season finale game, Pope is still expecting it to be a good matchup.
The Cougars traveled back to Provo Thursday night to start preparing for the Zags.
"We'll get back to work hard tonight and hit the court tomorrow and get ready for the best team in America," Pope said.
Pope is also excited to be one of a few teams that have the opportunity to play Gonzaga twice. In the last meeting between both programs, the Zags handed the Cougars a 86-69 loss in Spokane, Wash.
But BYU wasn't playing like the team it is, Pope said.
The second-year head coach will like to see improvement from his team on Monday. It may have been a fairly last-minute change in the schedule, but it's not unlike anything other teams across the country are also facing themselves.
With the possibility of games being canceled or postponed at any moment, Pope is happy with the way his team has managed the constant changes to the schedule.
"Listen, there's all kind of teams that have faced all kind of new challenges with COVID," Pope said. "I'm really proud of our guys, that they keep finding a way to kind of ring the bell and respond to challenges."