BYU quarterback Zach Wilson shines on pro day in Provo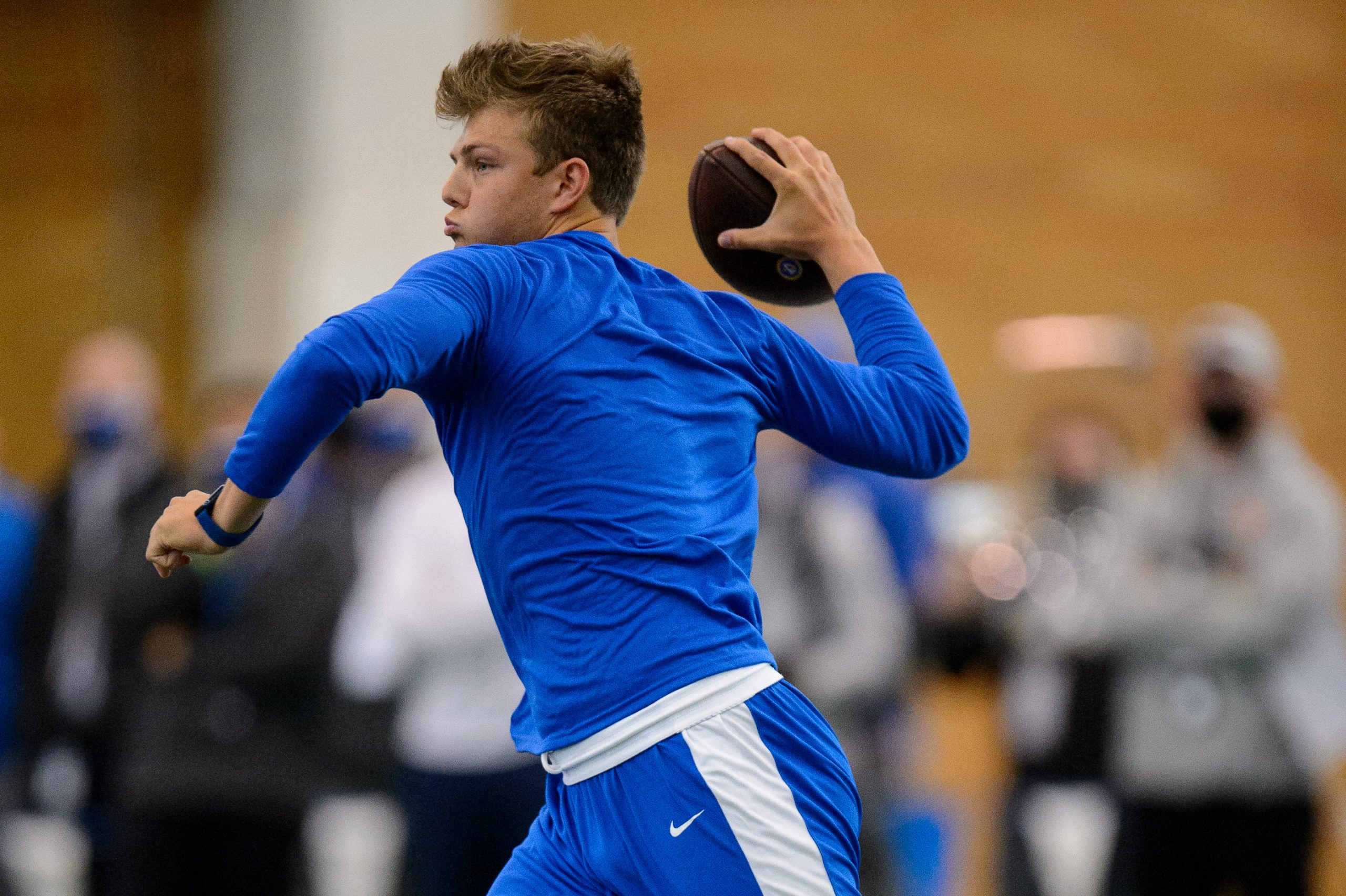 PROVO, Utah – Zach Wilson entered the Indoor Practice Facility on Friday morning wearing headphones and looking cool, calm and collected as he smiled and laughed his way through a few stretches and warm ups during BYU's pro day on Friday.
Then, he put on a clinic.
Wilson never appeared to give NFL reps and scouts any reason for new doubts or to bump him down the NFL draft projection boards. In fact, the junior Cougar quarterback seems to have cemented himself as a Top 3 pick.
"Something I feel like that separates me [from other quarterbacks in the draft] is just my passion for the game," Wilson said. "I really put a lot of time to what I do. Throughout all the years and stuff, I really dedicated my life to football. It's crazy, when people ask me what I do outside of football — football is really my life. It's everything I've got going on."
In total, 31 of the NFL's 32 teams were represented in Provo to watch the former Cougars, a record for a BYU pro day. The action in the IPF most likely played a hand in the 2021 draft order.
The lone exception on Friday? The Jacksonville Jaguars and their new coach, Urban Meyer, cementing the notion that the Jags will choose Clemson's Trevor Lawrence with the top pick on April 29.
While Wilson was making some warm-up passes, news broke that the San Francisco 49ers made a trade with the Miami Dolphins for the No. 3 pick. The Dolphins were bumped down to No. 12, but, approximately half an hour later, made another trade with the Philadelphia Eagles for the No. 6 pick.
It was reported the Eagles would like to trade for the No. 3 pick in a bid to get Wilson. The Niners trade is perceived to be an attempt to get a top quarterback, but it's unknown if Wilson will still be available by then.
"They obviously have three quarterbacks that they feel really good about and put themselves in position to get one of those guys," NFL Network analyst Daniel Jeremiah said. "The fascinating thing is, who is it? We kind of assume — Trevor [No.] 1, Zach [No.] 2. And that gives them the choice of the other three guys we look at as first-round quarterbacks, between Trey Lance, Justin Fields and Mac Jones."
The former BYU quarterback didn't participate in any of the individual workouts because he tweaked a hamstring and wanted to make sure he was able to throw, Wilson said. He was still able to get his measurements recorded and came in at just over 6-foot-2 and 214 pounds.
Wilson was also grateful to have had a fully healthy 2020 season to be able to create a strong highlight reel heading into the draft. It also helped to have had shoulder surgery when he did, the Draper native said.
Following the 2018 season, Wilson underwent shoulder surgery to repair the labrum in his right shoulder. Wilson sat out the spring practice season, but returned to fall camp and was the Cougars' season starter in 2019.
But Wilson continued to be plagued by injury that year, fracturing his right (throwing) thumb nearly midway through the 2019 season.
Now, fully healthy, Wilson has his eyes set on taking the next step.
"No doubt, that was why I did the shoulder surgery early on, is jut to show these teams that I get a couple of years under my belt of playing with a repaired shoulder," Wilson said. "And it feels great. I have no issues; it's stronger than it was before. I'm glad I got it done."
Although most eyes were on Wilson, the platform the BYU quarterback performed on Friday was beneficial to the entire program.
Besides the dozen-plus 2020 players who participated, there was another handful of Cougars who departed following the 2019 season. Due to the then-recently-named pandemic, the NFL combine and pro days were canceled last year.
Wide receiver Aleva Hifo was among those that returned to Provo for a second chance.
Hifo had initially signed as an undrafted free agent with the Kansas City Chiefs, but was waived by the team after having been the only member of the team to reportedly test positive for COVID-19. The Menifee, Calif. native actually believes he may have been amongst the first NFL players to contract the coronavirus.
Once healthy, Hifo was re-signed by the Chiefs again, but was released a second and final time a few days later. Hifo went without playing in the 2020 season.
But then in January, Wilson reached out to Hifo. The BYU quarterback wanted his former teammate to come back to Provo to throw to at pro day.
During Wilson's throwing session, he targeted Hifo, Micah Simon, Matt Bushman and Dax Milne over the course of 60 throws, in a variety of situations.
"I'm thankful for Zach, again," Hifo said. "He continued to fly me out to California every weekend, for like three consecutive weekends, and making sure we could get timing down. I believe it helped a lot today. And it was good to have that kind of training with Zach."
Hifo said things had been quiet up until this point, but hopes he did enough on Friday to have caught the attention of somebody to be able to get another opportunity at playing in the NFL.
Well, Hifo certainly caught the attention of people at pro day.
The former BYU wide receiver connected on Wilson's best play of the day. Wilson faded to the left and threw up a ball for 60 yards which Hifo caught in the red zone.
"Where all of your body and momentum is floating and drifting left, and then for him to be able to get enough power on the ball to get it over the top and going back towards the right, deep down the field, and placed it beautifully — it's just incredibly hard," Jeremiah said. "Rolling right and throwing left is tricky, but when you go left and throw it all the way back to the right, that's a whole other level of difficulty.
"To have that type of horsepower and athleticism to be able to pull that off, it's pretty unique," Jeremiah added.
What makes Wilson's rise to the top of the draft even more special is the fact that he was a relatively unknown player before the 2020 season, never mentioned among the top quarterback prospects.
Now, he could be selected as the No. 2 pick in the NFL draft by the New York Jets. Wilson, who has already had Zoom interactions with the Jets, had a quick chat with general manager Joe Douglas on Friday.
Should Wilson get selected by the Jets organization, he is already fairly familiar with the area due to previous trips, and he even has family in the area.
"I'd be happy to go with any team that drafts me," Wilson said.