'We made huge strides': BYU won't wrap up spring football camp Friday with a game, but Kalani Sitake pleased with team's progress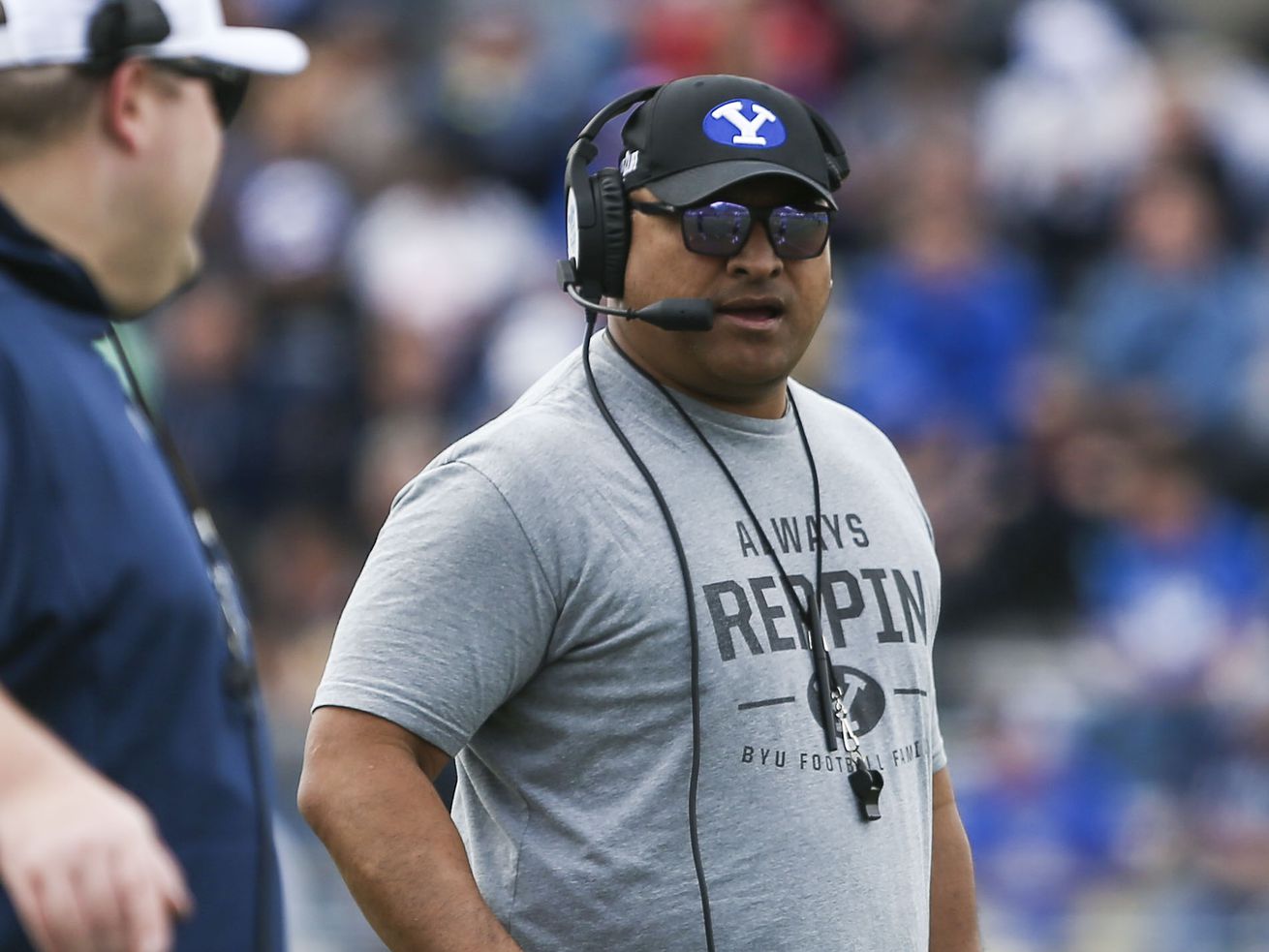 PROVO, Utah – Energy and enthusiasm will be abundant at BYU's indoor practice facility Friday as the school hosts dozens and dozens of pro scouts and general managers from the National Football League for pro day — aka, the Zach Wilson Showcase — in the morning and then wraps up spring camp with the 15th and final practice in the late afternoon.
Real, live football playing — blocking, hitting and tackling and the other elements of the game that make it so entertaining — will be kept at a minimum, however.
For the second straight year, BYU will not have a spring game because it does not have enough healthy linemen to put together something that resembles a true football competition.
"We are just trying to keep our guys healthy, and with our numbers being a little bit down, I think that is probably the right approach to take," coach Kalani Sitake said Monday.
The Cougars were originally going to have their final practice at LaVell Edwards Stadium and allow up to 7,500 fans to attend, but on Tuesday they announced that "due to forecasted (inclement) weather and related player safety concerns" the practice would be moved indoors and spectators and media members will not be accommodated.
Two years ago, BYU's spring game had to be moved across the street to the old Provo High football stadium because LES was being renovated. As Wilson stood on the sidelines and watched the proceedings with former BYU QB Max Hall, the rising sophomore's shoulder in a sling from January 2019 surgery, fellow QB Jaren Hall emerged as the player of the game.
"I wish our depth and our injury situation was a little more suited to actually have a spring game," BYU offensive coordinator Aaron Roderick said last week. "The one over at Provo High was really fun. We wanted to do something like that. I don't think it is going to be possible, though. It is too tough."
The shame is that the four quarterbacks vying to replace Wilson as the 2021 starter won't get the chance to replicate what Hall did two years ago, although Roderick says the final practice will still include some scrimmaging and 11-on-11 work.
Sitake said the goal Friday is to finish strong, keep guys healthy and perhaps whittle the quarterback derby down to a more manageable number heading into spring and summer player-run practices.
"I think we got everything done that we have wanted to so far," Sitake said. "It is just more about getting everybody ready and thinking about fall camp, getting as much film as we can for the install for a lot of the new guys so we can see it on film, and then keep getting better at our fundamentals and technique."
Sitake said he went into spring camp hoping to build depth at all positions, and he feels like coaches "made huge strides" in accomplishing that goal.
"I have seen a lot of guys get better," he said, then mentioned receiver Chris Jackson and linebacker Josh Wilson as guys who have moved into the two-deep because of their improvement.
"I just want to keep developing this program, keep developing this thing into the beast that I think it can be," he said.
One of his biggest development projects this offseason is at offensive line, as new OL coach Darrell Funk, Eric Mateos' replacement, looks to find replacements for three mainstays who will perform at pro day earlier Friday: left tackle Brady Christensen, right tackle/guard Chandon Herring and right guard Tristen Hoge.
Third-year sophomore Blake Freeland (6-8, 300) is the heir apparent at left tackle, while fellow Herriman High product Harris LaChance (6-8, 310) will likely step in at right tackle.
"We are probably getting the most consistency out of those guys at those spots, and then we have a bunch of guys that can kind of rotate in there," Sitake said.
Sophomore Clark Barrington (6-6, 302) returns at left guard, while James Empey (6-4, 303) will start at center for the fourth straight year. Lone Peak product Connor Pay (6-5, 300) filled in late last season when some starters were injured, and "has done some really good things" at right guard in camp, Sitake said. "We just have a bunch of guys that will play in so many different positions. Funk has done a good job rotating those guys."
Redshirt freshman Seth Willis (6-5, 290) and walk-on Brayden Keim (6-8, 280) have "stepped up" and will push to be in the two-deep along with Keanu Saleapaga (6-6, 310), Joe Tukuafu (6-4, 301) and Mo Unutoa (6-5, 290) when they are healthy, the coach said.
"Brayden Keim is going to be a really good player here," Sitake said. "He's got a lotta height, a lot of size, and he is big now. All that time in development is going to pay off for him."
Converted tight end Donovan Hanna, Michigan State transfer Mufi Hunt and recently returned missionaries Campbell Barrington and Tysen Lewis could also move into the mix.
"When other guys get healthy, that will be a lot deeper room," Sitake said.
And BYU might be able to have a real spring game.