BYU, Utah State add 4 games to football series through 2026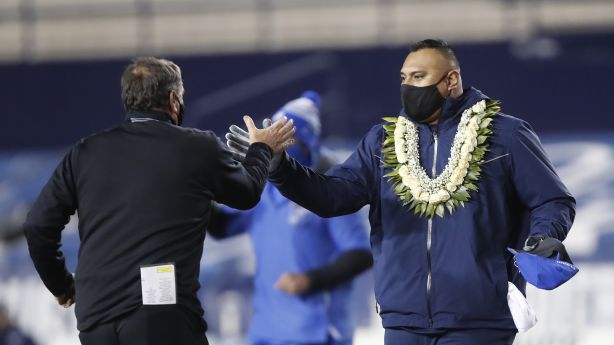 PROVO, Utah — BYU and Utah State are taking their longstanding Wagon Wheel series further down the road.
The two schools have extended their long-running series through the 2026 season, according to a copy of an agreement between the programs obtained by KSL.com.
Previously scheduled through 2022, the Aggies will host BYU on Sept. 16, 2023, the only weekend not scheduled during the traditional conference weekend of The Church of Jesus Christ of Latter-day Saints that benefits both schools' fan bases.
The four-game extension puts games on the following dates through 2026:
Oct. 1, 2021 in Logan
Sept. 30, 2022 in Provo
Sept. 16, 2023 in Logan
Oct. 4, 2024 in Provo
Oct. 3, 2025 in Logan
Oct. 2, 2026 in Provo
The two in-state rivals have met 89 times since 1922, with BYU holding a 49-37-3 advantage. BYU is the second-most played series with Utah State, trailing only Utah's 112 all-time meetings. The Cougars and Aggies have faced each other in all but 10 years since 1922 — principally during World War II, as well as a handful of meetings in the mid-90s and mid-2000s.
The Cougars and Aggies were scheduled to meet Friday, Oct. 2 in Provo, but the game was canceled when the Mountain West initially canceled the season before reverting to a conference-only football season due to the COVID-19 pandemic. The 2020 meeting was the first time the two teams had not played since 2007.
BYU eventually added Boise State and San Diego State back to its schedule that featured 11 games. But the game with the Aggies was never renewed.
"There's a lot of history and tradition in our longstanding football series with Utah State," BYU athletic director Tom Holmoe said when the two schools extended the series through 2022. "I appreciated working with John Hartwell to further extend the series into the future. I have loved the in-state rivalry with USU as a player, coach and now as an administrator. I look forward to these future games."
The agreement, which was finalized Oct. 5, 2020, was signed by Holmoe and Hartwell.
Under terms of the agreement, no money is contracted to exchange hands, though the visiting team will receive 300 complimentary tickets to each road game, in addition to up to 2,500 tickets that may be sold at face value.
The contract also stipulates that any game canceled by one institution should require a defaulting payment of $1 million to the other institution. Exceptions include uncontrollable circumstances such as war, government interference, an act of God, or a pandemic — standard contractual language that takes on a new meaning due to the preceding game's cancellation in 2020.
The addition of Utah State puts 11 games on the Cougars' 2023 schedule, which also includes home games with Tennessee, Rice, Boise State, UNLV and Southern Utah, as well as road games at Virginia, Arkansas, Fresno State, UCF and USC.
Utah State's 2023 nonconference schedule now boasts Iowa, Idaho State and UConn, in addition to BYU.