Cordingley, Hess Lead Utah State Golf In Round One At Thunderbird Invitational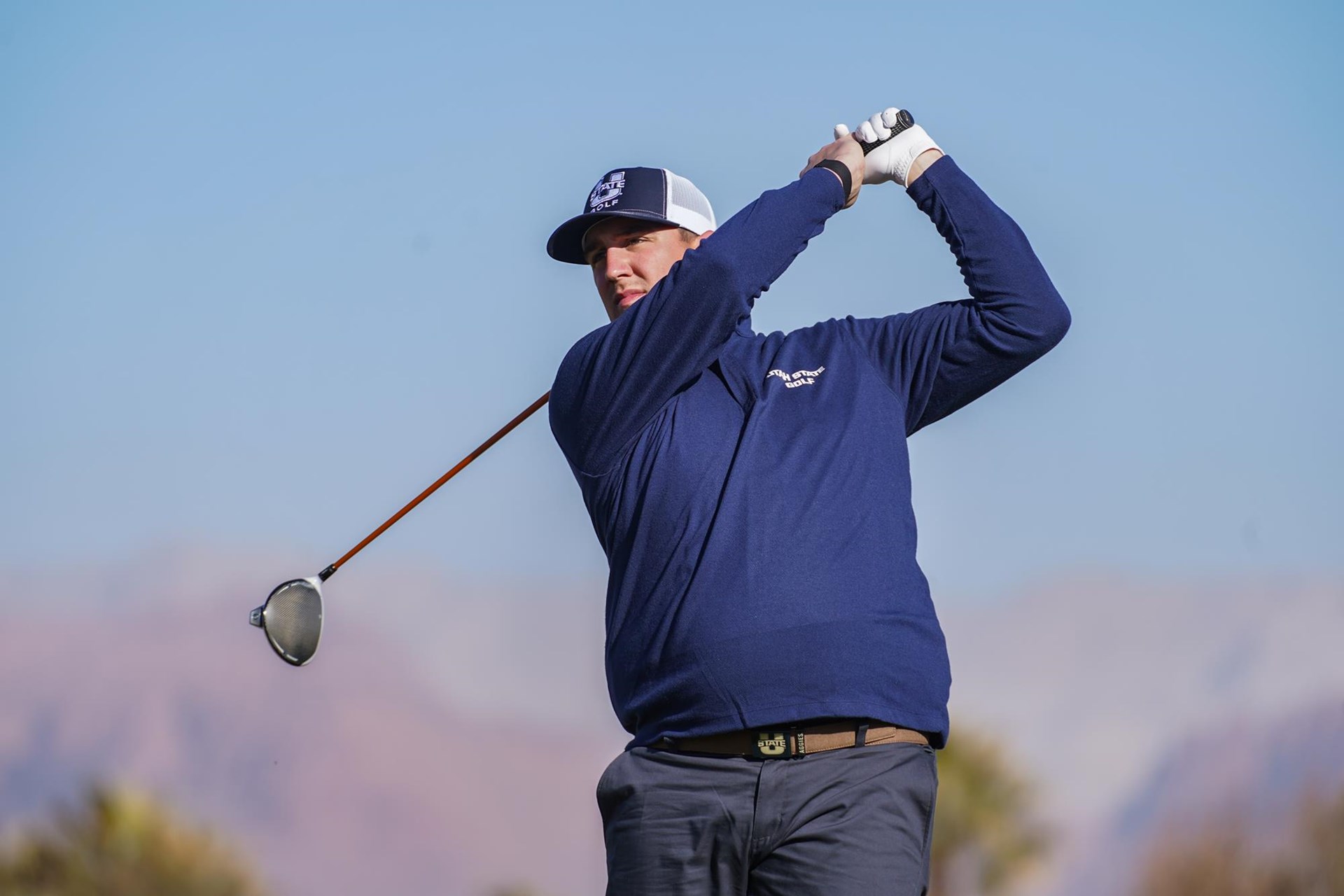 Utah – Paced by a pair of opening-round 4-under par 68s from seniors Colten Cordingley and Andy Hess on Saturday, Utah State's golf team finds itself tied for seventh at the Pizza Hut-Pat Hicks Thunderbird Invitational, hosted by Southern Utah at the Sunbrook Golf Course.
Cordingley and Hess are tied for sixth and just three back of first-round leaders Blake Tomlinson (Utah) and Brady McKinlay (Utah Valley).
Cordingley's strong first round was highlighted by six birdies and two bogeys on the par-72, 6,900-yard course. Hess had seven birdies and three bogeys during his round.
At 22-under par as a team, Utah leads the 12-team field, followed by Utah Valley (-17), Southern Utah (-6), Weber State (-2) and Sacramento State in the top five. Oral Roberts is in sixth (+1) and the Aggies are tied with Dixie State for seventh (+2).
The 54-hole tournament continues with the second round on Sunday and final round on Monday.
Making his Utah State debut, freshman Javier Vazquez shot a 5-over 77 and is tied for 59th, along with Aggie fifth-year golfer Chase Lansford. Redshirt junior Jesse Henderson shot a 6-over 78 and is tied for 62nd.
Utah State is the defending champion of the event after finishing the 2019 tournament with a 3-under-par 573 (287-286). It marked the Aggies' first tournament win since Oct. 17, 2017, when they claimed the tournament title at the Cal State Northridge-hosted Bill Cullum Invitational.
Fans can follow Utah State's golf program on Facebook at facebook.com/USUMensGolf and on Twitter at @USUMensGolf.
Pizza Hut-Pat Hicks Thunderbird Invitational
Date: Feb. 6-8
Host Course: Sunbrook Golf Club (St. George, Utah)
Par: 72
Yardage: 6,900
Live Scoring: https://bit.ly/3cIC1ma
TEAM RESULTS
1. Utah – 266 (-22)
2. Utah Valley – 271 (-17)
3. Southern Utah – 282 (-6)
4. Weber State – 286 (-2)
5. Sacramento State – 288 (E)
T7. UTAH STATE – 290 (+2)
INDIVIDUAL RESULTS
T1. Blake Tomlinson, Utah – 65 (-7)
T1. Brady McKinlay, Utah Valley – 65 (-7)
T3. Tristan Mandur, Utah – 67 (-5)
T3. Javier Barcos, Utah – 67 (-5)
T3. Jesper von Reedtz, Utah – 67 (-5)