Day of service: Gov.-elect Cox boxes food for Utah Food Bank ahead of inauguration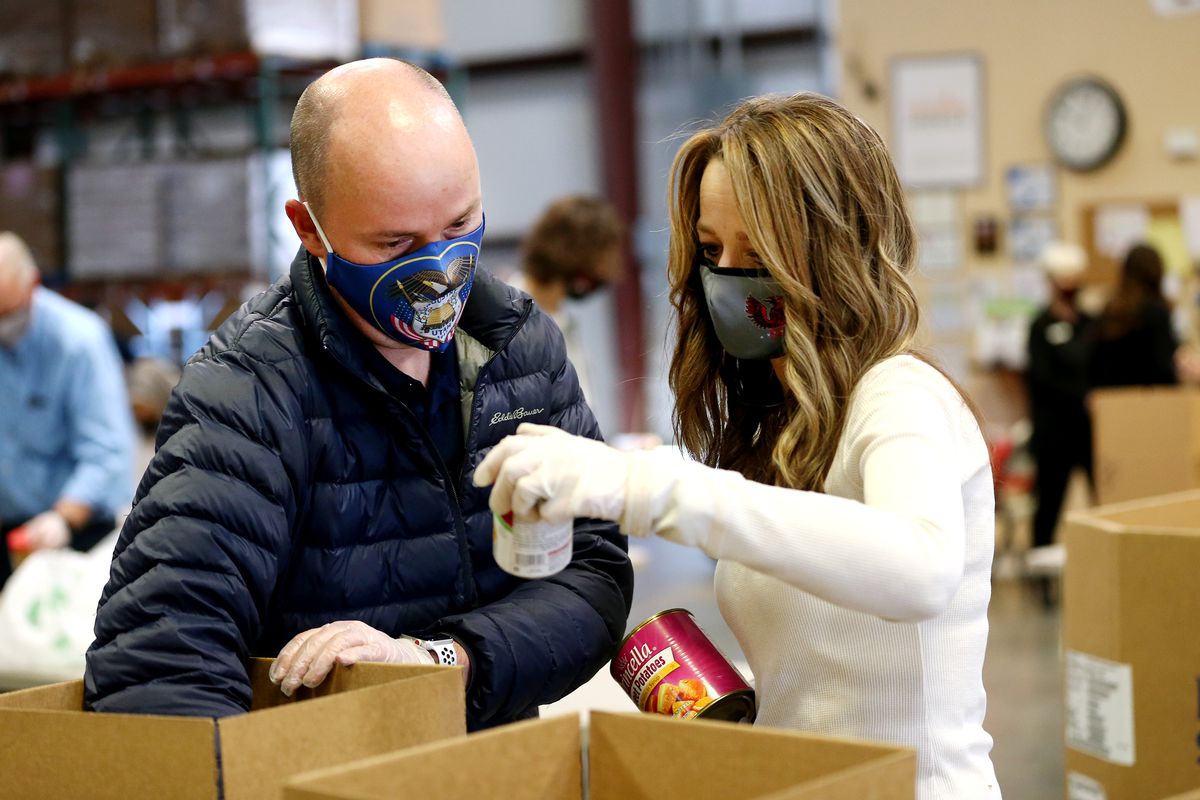 UTAH – Gov.-elect Spencer Cox, Lt. Gov.-elect Deidre Henderson and their families helped box food for the Utah Food Bank on Saturday, kicking off a weekend of service and prayer ahead of inauguration day and capping off a monthlong food drive for Utahns struggling amid the COVID-19 pandemic.
As of Saturday, Utahns donated $209,178.33 and 35,136 pounds of food throughout the state, Cox said at a news conference outside of the Utah Food Bank Southern Distribution Center. He and Henderson applauded Utahns for their generosity but urged them to continue giving.
"The need is great — especially this year," Cox said. "Every donation will make a huge difference in a family that needs it."
The food drive donations will provide more than 800,000 meals to Utahns — shattering their goal to raise donations for at least 511,000 meals, enough for at least one meal for each Utahn that is estimated to be experiencing food insecurity this year.
The fact that Utahns exceeded that goal in donations came as no surprise, as Utah leads the nation in donations and charity, Cox said.
"Service and community are the defining characteristics and core values of Utahns," Cox said. "To those of you who have already donated, we offer our greatest thanks and appreciation, and we would encourage more of you to donate and continue donating."
Henderson said that while the holidays and the monthlong food drive is over, "there is still a lot of need that still exists in our state. A great need. And we really need to rely on the people of the state of Utah to continue their generous spirit in donating their time, their money, their resources … so we can continue to help the people in our state who are in greatest need."
Ginette Bott, president and CEO of the Utah Food Bank, thanked Cox and Henderson for volunteering their time. She said the Utah Food Bank was "humbled" to be a part of Cox and Henderson's inauguration weekend. "Part of the change that is coming to Utah that will be led by you," she said, looking directly at Cox. "Part of the hope that will be delivered to Utah that will be led by you as well," she said, looking at Henderson.
"Coming today and doing a simple task, sorting through cans of food and putting them into a box seems a little mundane," she said, but she called service "crucial" to the nonprofit and others across Utah amid a time when volunteering dropped off dramatically due to the pandemic. Overnight, the food bank's Salt Lake City distribution center went from having 200 volunteers, to zero, she said.
Meanwhile, demand has skyrocketed, Bott said, going from 2 million pounds of food in March and April of 2019 to 6 million pounds in April of this year and every month since.
"Thank you for using your service, your platform, as a means of education," Bott told Cox and Henderson. "Of teaching those in the state of Utah who may not think about hunger, who have never recognized hunger and hopefully will never ever have to worry about their family."
Sunday, the day before they take the oath of office, Cox and Henderson are slated to attend a series of faith services in St. George, where they decided to hold the inauguration — requiring COVID-19 tests for all attendees — to allow for an outdoor ceremony and send a message of representation to communities off the Wasatch Front.