'Every win means a lot to us': BYU happy to get 2OT victory over Pacific but it has issues to address moving forward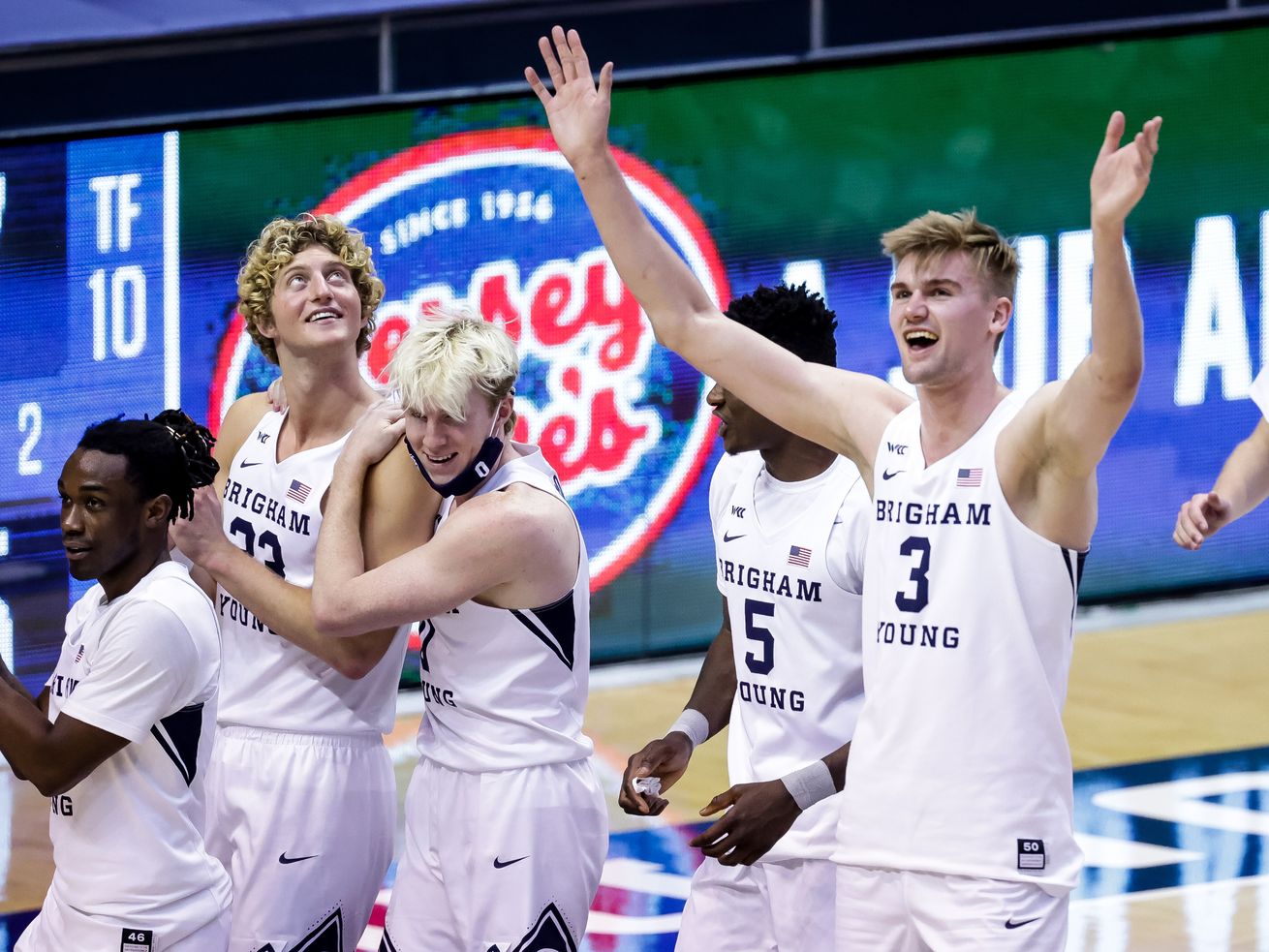 PROVO, Utah — While BYU averted disaster by beating Pacific 95-87 in double overtime Saturday at the Marriott Center, there are issues that the Cougars need to fix, or else they may face similar tenuous situations in the final month of the regular season.
This week, BYU heads back out on the road with games at San Diego (Tuesday) and Portland (Thursday).
For stretches during the first half against Pacific, BYU's stagnant offense was an eyesore. On two separate occasions, the Cougars went about five minutes without scoring.
They made just 18 of 28 free throws, including misses late in the game that could have cost them. They also gave up 14 turnovers.
During the second half, there were times when BYU couldn't stop the Tigers from scoring.
But ultimately, the Cougars (14-4, 5-2) made the offensive and defensive plays they needed in order pull out a dramatic victory.
"The perfect way to explain that game is a roller-coaster ride … That's the game of basketball," said guard Brandon Averette, who scored a game-high 24 points, including 5 of 8 from 3-point range. "You have ups and downs but it's all about how you respond. We responded great as a team. Those are the games you remember and they're my favorite type of games to play in."
Guard Alex Barcello finished with 23 points and collected a career-high nine rebounds and added seven assists. He scored 21 of his points after halftime.
"I was proud of our group as a whole," Barcello said. "We handled the game well and what it brought to us — physicality and down the stretch."
Saturday marked coach Mark Pope's first overtime game at home and his first OT win as BYU's coach. The Cougars posted an 0-3 record last season in overtime games.
Knowing that a home loss to Pacific could have severely damaged BYU's NCAA Tournament resume, Barcello understands what the victory means.
"Every win means a lot to us," Barcello said. "We had a sense of urgency coming into this game. In the second half, and as the overtimes progressed, you could see our guys were still there, ready to fight and hungry. Our coaches instill that into us every day. Being present in the moment is our main focus."
Pope was pleased with the way his players filled their roles to produce the outcome.
"We went through our whole lineup and everybody found a way to contribute in different ways," he said.
Matt Haarms scored 13 points and pulled down eight rebounds, with six of his points coming in the second overtime.
BYU's three seniors, Haarms, Barcello and Averette, combined for 60 points.
"We're following their lead and they're doing a terrific job so far," Pope said of the seniors.
Richard Harward ended up with eight points and six rebounds. Late in the second half, he scored six straight points for the Cougars on hook shots.
Connor Harding had seven points, hit a pair of 3s, and recorded three steals. And Caleb Lohner grabbed eight rebounds to go along with four points.
By the second overtime, three of Pacific's big men had fouled out and BYU's defense clamped down on the Tigers. The Cougars outscored Pacific 20-12 in the second OT.
"We said the same thing coming into every huddle," Barcello said. "'We need to stay hungry. Eventually, they're gonna to break. We're not gonna to break. We're too tough and we work too hard to break.' They're a talented team. They hit some tough shots down the stretch."
"They kind of got a little tired and we took it to another level on the defensive end," Averette said. "We made a few adjustments coming into the second overtime."
Despite the frustration and adversity, Pope liked the way his team responded.
"We did a good job," Pope said, "of saying, 'We are not going to relent.'"