'That is Alex Barcello': Why BYU basketball will go as far as senior leader, 'motor' takes it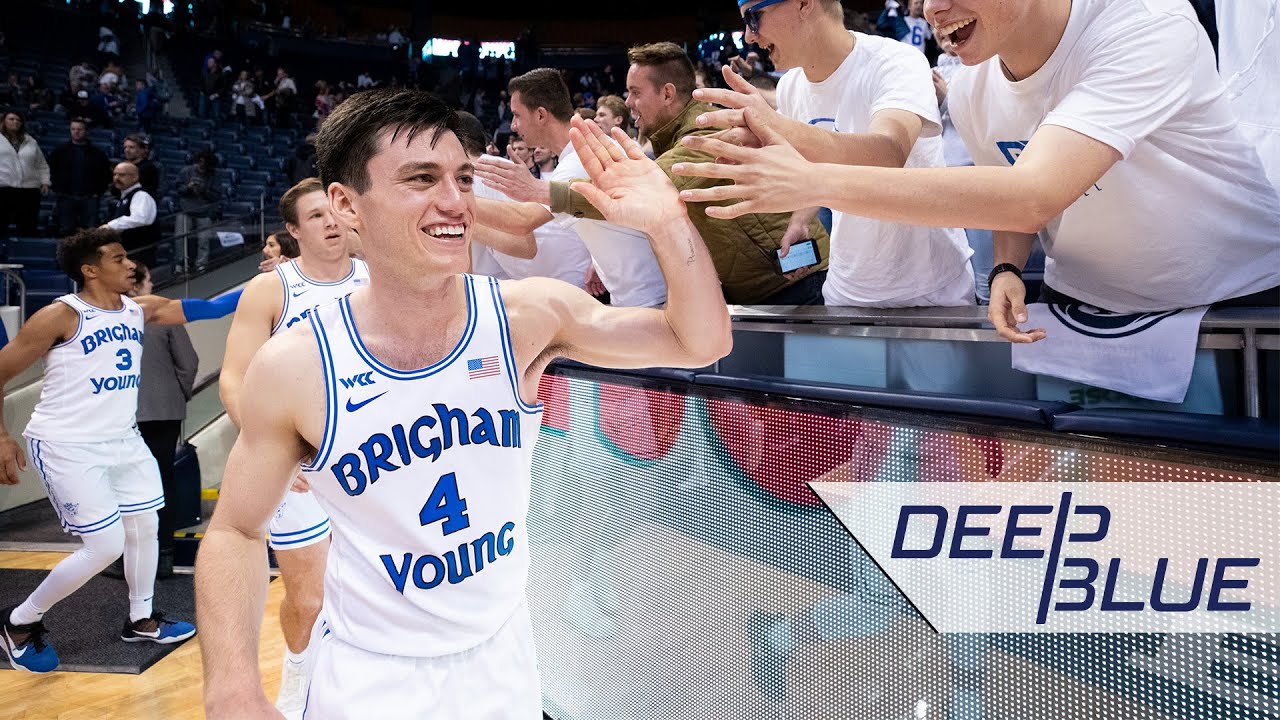 PROVO, Utah — Alex Barcello's biggest impact in BYU's gritty 95-87 double-overtime win over Pacific came long before he scored 23 points, or shot 7 of 11 from the field, or made 9 of 10 free throws down the stretch to help secure a win that likely saved any chance the Cougars' have at an at-large berth to the NCAA Tournament.
It came well before he grabbed a career-high nine rebounds, or dished out seven assists.
His biggest contribution, it can be argued, came six minutes before tipoff, when BYU players gathered in the pregame huddle.
That's when the senior from Chandler, Arizona stole a glance with BYU freshman Townsend Tripple, the freshman from Rocky Mountain High near Boise who hasn't played this season due to a combination of injuries and typical first-year concerns.
Tripple was hanging off to the side of the traditional pregame huddle, a little shy or sheepish or nervous, as one might expect of a walk-on reserve who hasn't played and is still finding his groove in his first year in college.
But when Barcello saw Tripple, he didn't see a freshman or a walk-on or someone whose injury has kept him from even practicing recently. He just saw a teammate.
So Barcello grabbed Tripple's wrist and pulled him into the group. The two locked arms collided with the rest of the team in the center, and Barcello raised it high above his head, closer to the height of the 6-foot-8 Tripple than the 6-foot-2 Arizona transfer.
And with that, the Cougars gave one final cheer and ran out of the tunnel to the sparsely attended Marriott Center to face the Tigers in a gritty, defensive-minded, double-overtime victory that was hardly expected by anyone in the building.
And more than what he did on the court, that pregame interaction showed who is the Cougars' co-captain, head coach Mark Pope explained after the game.
"That is Alex Barcello," he said. "He is working hard to bring everybody into his circle. He knows we need everybody — even Townsend Tripple, who can't help him on the floor or in practice. Even him, Alex knows he's in this team and we're in this together.
"I really believe that's his special sauce. It's pretty extraordinary how he's working to lead this team."
To Pope and the Cougars (14-4, 5-2 WCC), Barcello is more than a teammate or a point guard in his second season in Provo. He's even more than a top-10 scorer in the West Coast Conference who averages 15.4 points per game, or the second point guard in the "ABBA" back court alongside UVU transfer Brandon Averette, averaging a team-high 4.6 assists.
"Alex is our engine," said Averette, who averages 11.1 points and 3.1 assists per game, including a game-high 24 points and five assists against Pacific. "He gets us going, and is always bringing us together, talking to us. Everything he says is always true. He gives his all on both ends of the floor. You never have to question his leadership."
Even when he had just 2 points on 0-for-1 shooting in the first half against a Tigers team belied by their 5-4 record, Barcello was still key to the Cougars' struggling attack. He dished out three assists. He pulled down six rebounds. He ran the offense for 16 minutes and had just one turnover.
Sometimes, it's not the points, rebounds and assists that matter the most.
Sometimes — a lot of times — Barcello's biggest contribution lies outside of the official box score, and that was clear as the Cougars scrapped and clawed on an off night, determined not to lose a second consecutive game for the first time in Pope's two years at the helm of the program.