From near-worst to best: BYU turning its attention to visit from No. 1 Gonzaga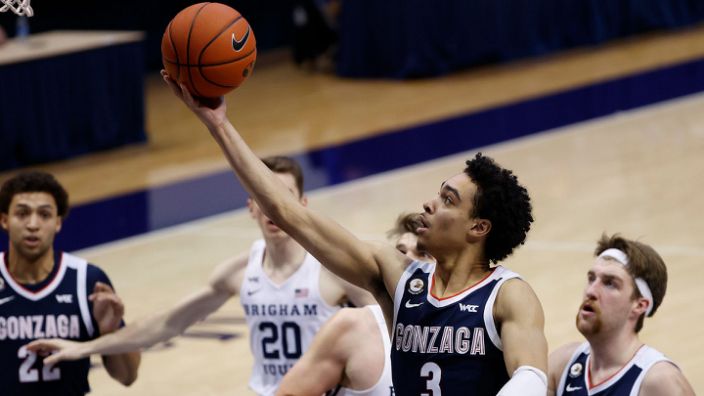 PROVO, Utah – Following a 45-point road win at lowly Portland Thursday, BYU returned home and began preparations in earnest for No. 1 Gonzaga.
Essentially, the Cougars are going from playing one of the worst teams in the country to hosting the nation's top-ranked team in the Zags on Monday (9 p.m., MST, ESPN) at the Marriott Center in Provo.
"We'll get back to work and get ready for the best team in America," said coach Mark Pope.
In the wake of its 105-60 demolishing of Portland, BYU jumped from No. 36 to No. 28 in the NCAA's NET rankings Friday.
The Pilots are ranked No. 320.
Thursday's win marked the Cougars' largest road victory margin — 45 points — against a Division I opponent in school history.
Friday, Portland parted ways with coach Terry Porter, who had been at the helm since 2016. Ben Johnson will serve as interim coach for the remainder of the season. The Pilots have lost 47 of their last 48 West Coast Conference games.
Six BYU players scored in double figures, the Cougars outrebounded Portland 46-12 and forward Gideon George outrebounded the Pilots by himself, 13-12, and scored a career-high 19 points.
The Cougars (15-4, 6-2) shot 63% from the field and hit 15 of 24 3-pointers. BYU outscored Portland 52-30 in the first half and 53-30 in the second.
To put it mildly, the competition level will be vastly elevated Monday.
BYU had only a couple of days to prepare for Gonzaga when they last met in January in Spokane because it was a rescheduled game.
The Cougars, who hadn't played in more than two weeks due to COVID-19 postponements, fell behind 8-0, then 23-2. Midway through the first half, BYU was in a massive 30-7 hole.
The Cougars cut the deficit to 13 points, 39-26, but Gonzaga pushed the lead back up to 23 by intermission before winning 86-69.
Now, BYU will get another crack at the Zags.
"I'm super excited about (playing Gonzaga). There's only nine teams in the country that get to play the No. 1 team in the country twice in league. Actually, there's only seven that get to play them twice," Pope said. "I'm super excited about that, especially after we did not perform like us up there. So much credit goes to the Zags for our poor performance but also some of it is on us. We're excited to have another chance to see if we can look more like us when we play them."
Monday's showdown is also a rescheduled game. The Cougars and Bulldogs weren't supposed to play in Provo until Feb. 27. But due to so many teams in the West Coast Conference being on pause due to COVID-19, it was moved up.
"We'll be ready for the Zags," said George.
Gonzaga (19-0, 8-0), which has been so dominant this season, surprisingly didn't exactly have an easy time at Pacific on Thursday.
The Zags trailed at halftime, 32-31, for only the second time this season. It was their lowest scoring first half of the year.
The Bulldogs weren't able to put the scrappy Tigers away until midway through the second half. In the end, the Bulldogs earned a hard-fought 76-58 win.
"We had to dig deep and find some toughness because we didn't have it there in the first half," said Gonzaga coach Mark Few. "They took the fight to us for pretty much that whole first half. We just weren't playing very smart. Plan A wasn't working, plan B wasn't working and we had to hang with it and we finally figured it out with plan C."
It's the same Pacific team that BYU beat in double overtime last Saturday.
Gonzaga's Drew Timme, the second-leading scorer in the WCC, finished with 21 points, including eight points during a 15-2 run that provided the Bulldogs with separation. Freshman Jalen Suggs added 19 points.
"We kind of got together in our little huddle and just said, 'Let's go,'" Suggs said. "Drew made a big play on that dunk and got us fired up. From then on we played with really good fire. We went out and we attacked them. We stopped being victims."
The Zags have won 15 straight games by double digits, the longest streak by a No. 1 team since UNLV reeled off 19 consecutive double-digit wins in 1990-91.
With the victory over Pacific, Gonzaga extended the nation's longest active winning streak to 22 games.
The last team to knock off the Zags? It was, of course, BYU, which beat No. 2 Gonzaga 91-78 in its home finale at the Marriott Center on Senior Night last Feb. 22.