Hospital COVID-19 caregivers celebrated in new painting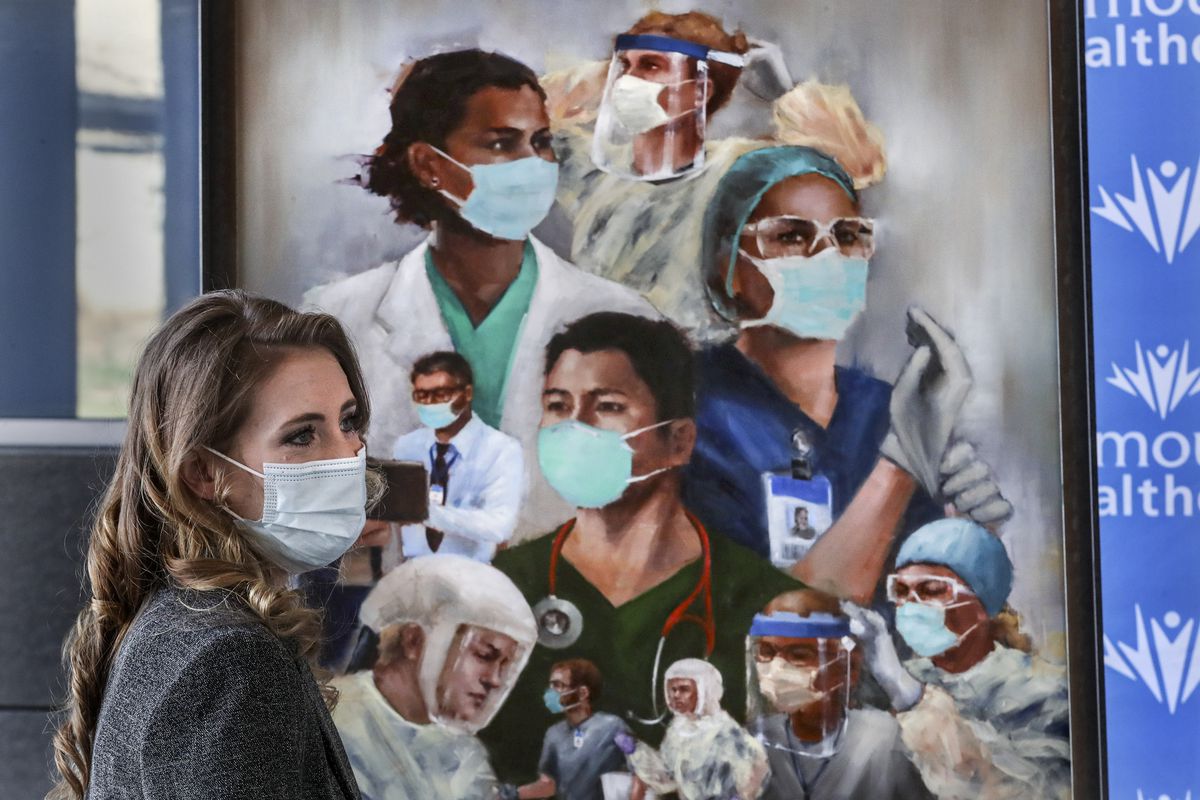 PROVO, Utah – A painting by a Utah artist honoring front-line hospital caregivers for their work during the COVID-19 pandemic over the past year was unveiled in a ceremony Monday at Intermountain Medical Center campus in Murray as the state reported just 173 new cases and one additional death from the virus.
Copies of the painting artist Heather Olsen described as representing health care workers around the world will hang in Intermountain Healthcare hospitals throughout Utah, Jess Gomez, a spokesman for the region's largest health care provider, said.
Olsen said the start of the coronavirus outbreak more than a year ago "was a very scary time." She said she wanted to honor health care workers who didn't hesitate "to step in and sacrifice so much to help everyone else" and portraying their courage has been "a healing process" for her.
Amy Christensen, chief nursing officer of specialty-based care at Intermountain Healthcare, said all caregivers will receive a copy of the painting in some form as a thank you for what they've done over the past year.
"It is our hope that all caregivers, no matter if they work at the bedside or they support those that do, will see this gesture from Heather as a recognition of their efforts through a very tough pandemic," as well as providing hope for the future, she said.
"It's been humbling to watch our own caregivers as they have given of themselves," Christensen said. "We've seen acts and demonstrations of courage every single day as they know that very emotional and physical exhaustion that they face."
Throughout the pandemic, she said there have been hundreds of stories of caregivers becoming surrogates for family members kept away by the virus. Starting Monday, Intermountain Healthcare has a new visitation policy, allowing those who have had COVID-19 or been vaccinated to visit patients hospitalized with the virus.
In addition to the painting unveiled at the Intermountain Healthcare Transformation Center during a news conference, Olsen also did a work portraying Utah health care workers who traveled to New York City in the early days of the pandemic to assist at overwhelmed hospitals there.
Elizabeth Hyde, an intensive care unit nurse who made the trip to New York City, said it has been "both mentally and physically exhausting" to deal with all of the unknowns surrounding the deadly virus. "But we were there, day in and day out, trying our best to save lives," celebrating patients who survived and mourning those who didn't.
Hyde said Olsen's previous work gave her "just the boost I needed" shortly after returning from New York City, then the epicenter of the pandemic. While Hyde said she remains grateful she chose nursing as a profession, "last year made me question that at least monthly."
Jay Larsen, an emergency department nurse, said the past year has been one of "tremendous highs and extreme lows." He told reporters that the bold colors Olsen's latest work "stand for the resilience of our staff and of our team and what they're capable of accomplishing in time of need."
Both Hyde and Larsen praised the strength shown in the faces of those portrayed in the painting.
Case count below 200
With the 173 new COVID-19 cases reported by the Utah Department of Health Monday, the state's case count has risen to 387,514. Utah's death toll is now at 2,133 with the loss reported Monday of a Utah County woman between 65-84 who was hospitalized at the time of her death.
The total number of vaccine doses administered in Utah is at 1,498,039, a daily increase of 2,326.
The rolling seven-day average for positive tests is 397 per day. Monday, the state health department reported another 2,111 Utahns were tested for the coronavirus, bringing the total number of Utahns tested to 2,413,193. An additional 3,778 tests were conducted and the total number of tests taken in the state since the pandemic began is now 4,294,735.
The rolling seven-day for percent positivity of tests at 3.5% when all results are included, the method used by the state to help calculate county transmission levels, and 7.1% when multiple tests by an individual over the past 90 days are excluded.
Currently, there are 121 people hospitalized in Utah with COVID.19, putting the total hospitalizations in the state since the start of the pandemic at 15,625.