Jimmer Fredette Named Top 'Bucket Getter' In Past Decade Of College Basketball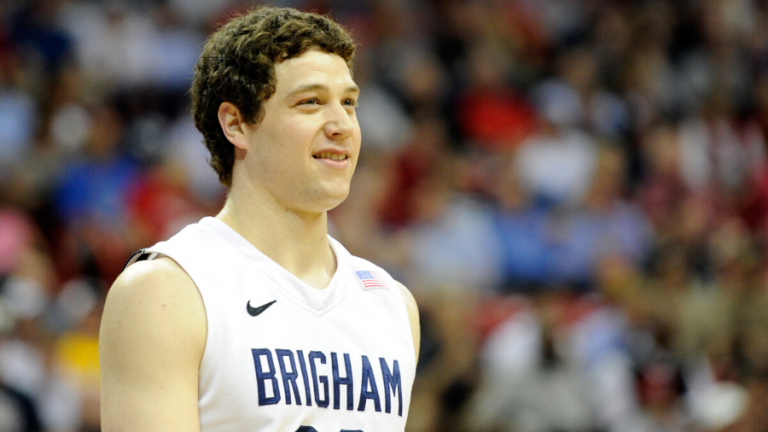 PROVO, Utah – Former BYU star Jimmer Fredette was an icon in the college basketball world when he was playing for the Cougars. Nearly 10 years later, people still have a case of "Jimmermania" every now and then.
College Basketball Insider for NCAA.com Andy Katz ranked his top "bucket getters" over the past 10 years who have scored more than 2,000 points. Fredette checked in at No. 1 on Katz's top 10 bucket getters list.
"Jimmer Fredette from BYU. Finished in 2011 with 2,599 points. I mean, Jimmermania, I loved watched Jimmer play. Phenomenal. Just outstanding," said Katz on the March Madness Podcast.
The full top 10 list included Marquette's Markus Howard, Creighton's Doug McDermott, Oklahoma guard Buddy Hield, Seton Hall's Myles Powell, South Dakota State's Mike Daum, Charles Jenkins from Hofstra, Lehigh star CJ McCollum, Utah State's Sam Merrill at number nine, and rounding out the top 10 was Wofford's Fletcher McGee.
During his four-year career at BYU, Fredette improved his points per game total culminating with an eye-popping 28.9 points during his senior season in 2011.
Fredette went on to win the Naismith Award that season which is given to college basketball's best player. Led by Jimmer, BYU advanced to its first Sweet 16 in 30 years during Fredette's senior season.
Jimmer scored more than 20 points in 63 games during his career with the Cougars. In 2011, he scored more than 20 points in 33 of BYU's 37 games that season.
Other BYU greats besides Jimmer Fredette considered for top "Bucket Getters"
Katz noted in his podcast that he also considered two other BYU players on the top 10 bucket getters list of the past decade. The two other players were the recently graduated Yoeli Childs and BYU's all-time scoring leader in Tyler Haws.
Haws finished his BYU career in 2015 with a program-best 2,720 points and finished with 19.6 points per game average. Childs ended his career in Provo this past season where he went on to score 2,031 points in only 119 games played.