Lauren Gustin Delivers Performance BYU Women's Basketball Hasn't Seen In 40 Years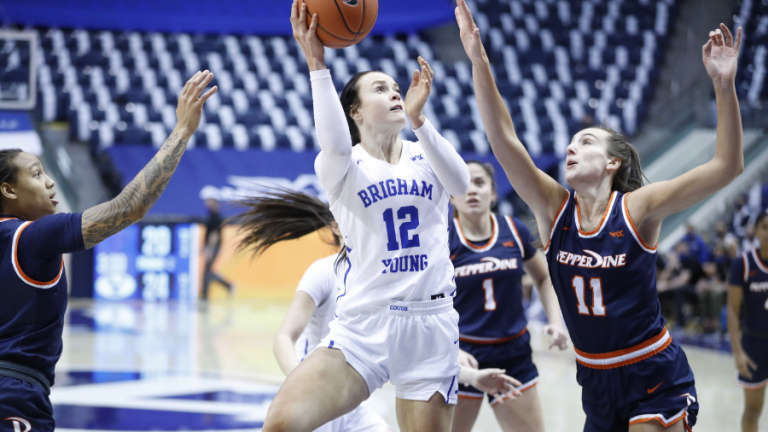 PROVO, Utah – BYU Women's Basketball standout Lauren Gustin delivered a memorable performance in the Cougars 75-61 over Pepperdine on Thursday night.
The Salt Lake Community College transfer from Salem pulled down a historic 20 rebounds. It's the most rebounds by a BYU women's basketball player at the Marriott Center since Tina Gunn grabbed 23 boards against Utah State during the 1979-80 season.
Gunn's jersey hangs in the rafters at the Marriott Center.
Everyone knew Gustin was in for a special night by the time the second quarter hit. Gustin had a double-double in just 10 minutes of action. She finished the night with 27 points, 20 rebounds, and shot 12-17 from the field in 33 minutes of action.
"It was a fun night," Gustin said. "I feel like we started out a little bit rough, but we pulled things together by the end and got the win."
Lauren Gustin will be key to BYU Women's Basketball making a run to the NCAA Tourney
Every win is critical for BYU as they near the homestretch of the 2020-21 season. Entering Thursday, BYU was tabbed as the "last team in" in ESPN's Bracketology for the upcoming NCAA Tournament. Historic performances are coming at the right time for a BYU team looking to get back to the dance for the first time since 2019.
"I thought Lauren played outstanding tonight," BYU head coach Jeff Judkins said. "Her mental toughness and physicality are really impressive."
After the 27-20 performance, Gustin is now averaging 12.8 points and 13.8 rebounds per game on the season. Her 13.8 boards every night is good for second nationally. She's also 24th nationally in double-doubles on the season with seven.
Along with Gustin, sophomore standout Shaylee Gonzales scored 11 points on an uncharacteristic 5-20 from the field. But she made her impact felt in other ways, pulling down eight rebounds of her own and dishing out four assists, which was good for a plus/minus of plus-27—a game-high between both teams.
BYU outrebounded the Waves 45-34 in the conference win that moves BYU to 10-3 overall on the year and 6-2 in West Coast Conference play. The Cougars are back in action on Saturday afternoon as they host Loyola Marymount at 2 p.m. on BYUtv.