LDS Church meetinghouse would make way for new student housing; profit would pay for scholarships at the U.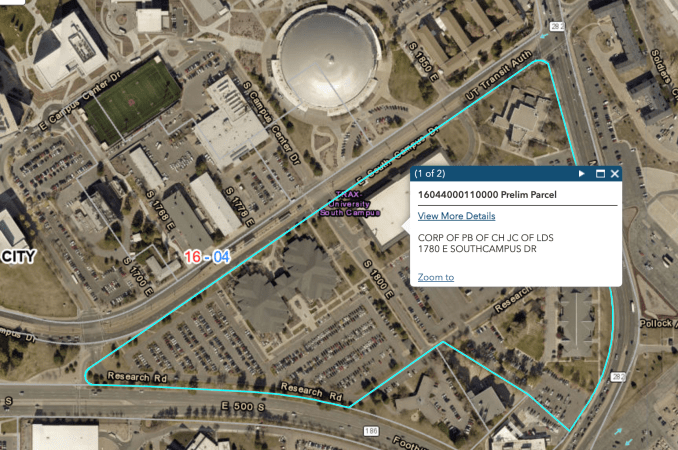 PROVO, Utah – With approvals from the city, an LDS Church meetinghouse would make way for more than 500 new apartments near the University of Utah in a unique bid to add student housing and fund scholarships for lower-income students.
The Ivory University House would include 536 apartments, each of them studios, in four new mid-rise buildings along Mario Capecchi Drive and South Campus Drive in Salt Lake City. That parcel is currently home to a meetinghouse for The Church of Jesus Christ of Latter-day Saints.
The group would then take all net proceeds and use it to fund scholarships for active students who demonstrate financial hardship, according to documents filed with the city for a zoning change and design review.
"The Ivory University House plans to support the University of Utah mission by providing an off-campus housing alternative for academically focused students," church representatives wrote in their application. "This project also enables a funding mechanism benefiting students demonstrating financial hardship by donating all net proceeds to scholarships."
Project details
536 studio apartments.
195 parking stalls on a 1.5-acre surface parking lot, accessible from Research Road.
211 parking stalls in total.
39 trees would be removed. 27 may be saved with an exemption from the city.The new housing would include less than half a parking space per unit. But the project would still include more than an acre of surface parking. And students wouldn't have to go far to find places to park. Most of the 30-acre parcel owned by the church consists of surface parking.

Documents were filed by representatives of the Clark and Christine Ivory Foundation.

People in the new housing would be within a 20-minute walk of all major areas on the U campus.

The developer would need the city to agree to rezone the property from Institutional to R-MU (residential mixed-use). The developer also wants an exemption from R-MU zoning so it can add larger setbacks, which it says is necessary to preserve 27 trees.

The application starts the design review process with the city's Planning Division. The change would need approval from the Planning Commission and City Council before it's built.