Man Recovering After Paragliding Crash In Southern Utah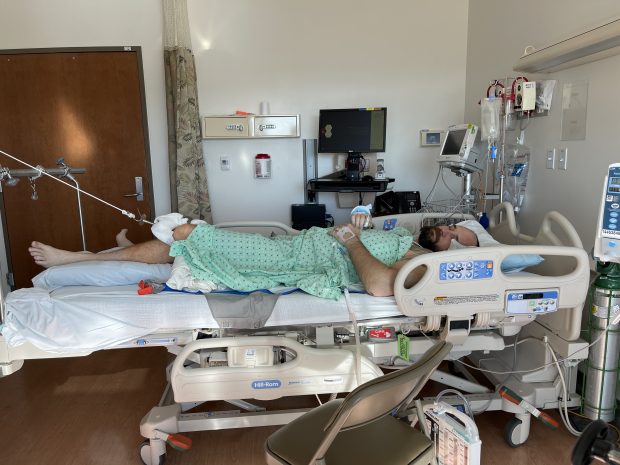 UTAH – A Utah man is recovering after being seriously injured in a paragliding crash near Snow Canyon in southern Utah.
Brad Roper and some friends were flying in the St. George area on a picture-perfect day Friday afternoon.
"We're super passionate about it. We have a ton of fun. We got three or four times a week," said Roper.
However, when they got near Bloomington, the wind picked up without warning.
"Those gusts kicked up some rotor and just folded our wings," he said.
Roper was able to recover in time, but he watched in horror as his friend Jeff Hunt couldn't.
"While he was fighting to get it reinflated, he dropped down near the ground probably about 30 or 40 feet, and then he took another collapse," said Roper. "He didn't have enough altitude to reinflate again until he went right into the ground."
Roper couldn't land right away to check on his buddy because of the wind.
Fortunately, someone was there on the ground and saw what happened.
"There was a mountain biker who is an EMT or some type of doctor there," said Roper. "When I was going through the GoPro footage, he was making sure they didn't move him, stabilized his broken leg, talking to him calmly."
Hunt suffered a ruptured aorta, broken femur, hip, pelvis and ribs, as well as bleeding on his brain.
But he's alive and in a hospital.
"Yeah, he's with us and recovery is looking promising," said Roper. "His heart is what they were really concerned about. He got that surgery done last night. So they're pretty optimistic. I think he's going to be OK. It'll just be a long recovery."
Roper has organized online fundraising efforts* to help Hunt's family while he recovers.
He has this bit of advice for anybody who likes these types of adventures.
"Luckily, we were flying together," he said. "A message I would like to get out to people is if you're going to go out and do these extreme and outdoor activities in remote places, I know from now on, I'll be carrying a GPS tracker and emergency device."
Roper knows about as well as anyone now that it's not an emergency until it is.
"Never had any scary experiences yet," he said. "This is the first one."