Nine Republicans running to fill Utah County Commission vacancy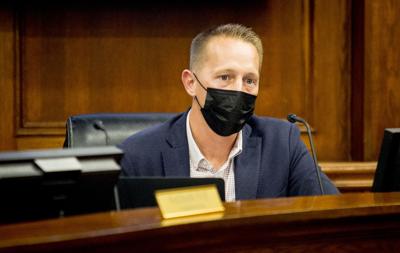 PROVO, Utah – There are nine Utah County Republicans vying to fill a vacancy on the Utah County Commission created after Commissioner Tanner Ainge resigned on March 17.
The Utah County Republican Party Central Committee will select a candidate to fill the vacancy. Skyler Beltran, vice chair of the Utah County Republican Party, told the Daily Herald that the party will have a candidate selected on April 24 around 5 p.m.
Here is a look at the field of candidates, which includes a Utah County government official, former county commissioner and city mayor, running for the Utah County Commission seat.
Amelia Powers Gardner: Utah County Clerk/Auditor Amelia Powers Gardner was one of the first candidates to throw her hat in the commission race when Ainge resigned after failing to provide the county with post-arrival notice for his military training and being nominated to serve on the Governor's Economic Development Board.
Since taking office in January 2019, Gardner has helped transform the Utah County Elections Division and bring innovation to county government, including implementation of a mobile app that allows couples to apply for marriage licenses online and a blockchain voting app for disabled residents and military personnel stationed overseas.
In a press release announcing her run, Gardner said county officials "have been asleep at the wheel," adding that "we have no directions and the government continues to grow right under our noses-even when we don't want it to."
"We need to intentionally plan for our future; otherwise, we may be faced with future surprise tax increases. I will make sure that never happens again," said Gardner.
Steve White: Former Utah County Commissioner Steve White, who served between 2002 and 2010, said he is running because he "can offer a seamless transition with no learning curve," adding that "I am the only one that can make that statement."
White, who has served as the co-chair of the Utah Association of Counties Legislative Committee for eight years, said in a news release that "this past election focused on saving tax dollars."
"The future of Utah County is very important," said White. "I want to represent residents of Utah County so that public safety, economic development, air quality and family values are emphasized."
Rod Mann: Highland Mayor Rod Mann announced on March 18 he would not seek a second term as mayor, adding that he had "also talked with a number of people about the possibility of running for county commissioner in 2022."
"Tanner Ainge's unexpected resignation as a commissioner this week forced me to make a decision earlier than I expected," the Highland mayor wrote on Facebook. "I will be running for that position because I believe I have the skills to bring about needed improvements at the county which affect us all."
Mann has drawn criticism from some residents in recent weeks for his discussions with a private developer about potentially building a recreation center at the North County Equestrian Park.
Chris Herrod: Chris Herrod is a former state representative from Provo who unsuccessfully ran against Republican Sen. Orrin Hatch in 2012.
In 2017, Herrod ran against John Curtis and Tanner Ainge to fill a congressional seat vacated by Jason Chaffetz.
Herrod, who also served in the Utah State Legislature, has harshly criticized Sen. Mitt Romney, R-Utah, for being an "elitist" and accused the senator of "lying to get elected."
He also has expressed skepticism about COVID-19 vaccinations and written on Facebook that "I recognize and admit that vaccinations harm a small percentage of those that they are administered to" and "it's not conspiratorial to understand that most organizations, governments, and individuals seek greater control as time goes by."
Christopher Forbush: Christopher Forbush, who ran for Utah County Commission in 2020, said in an email to county delegates that "prior to running, I gathered signatures for both tax referendums, sitting long hours at tables and taking packets around to neighbors."
"The first, seeking to overturn the state food tax, was successful," Forbush said. "The second, seeking to overturn the Utah County 67% property tax increase, was not successful. Still, believing a tax hike of 67% to be egregious, I worked through my campaign and even afterward to strengthen the efforts to roll it back."
The candidate went on, "I continue to strongly support and will work closely with the other two commissioners to accomplish this as quickly as possible once elected."
Ethan Allen: Ethan Allen, owner of Allen's Camera, which has locations in Provo and Orem, said he is running to fill the vacancy "with a clear eye toward preserving Republican values, reducing taxes, and managing growth responsibly."
Allen's campaign website states that he "has been deeply concerned about some of the decisions made and directions taken by the county," including the property tax increase approved by the commission in December 2019.
"Ethan Allen is the fiscally and socially conservative that Utah County needs to navigate today's challenges," the website said.
Robert Stevens: Software entrepreneur and land developer Robert Stevens wrote on his campaign website that "it's time to elect a Utah County Commissioner who will strive to understand your needs and feelings and will remove barriers to freedom and liberty so you can pursue your dreams."
"Thousands of outdated regulations impede progress for families, agriculture, innovation and contractors," the website said. "It is time for people like you to be involved with decision making to contribute your wisdom and expertise."
Howard Stone: Howard Stone, who has lived in Provo for more than 30 years and has a master's degree in public administration, is a fiscal conservative who has run for several offices over the years. In 2017, Stone unsuccessfully ran for Provo mayor.
Walter Parcell: Water Parcell, of Provo, is the CEO of Orem-based Advance Insurance. Parcell went to Brigham Young University and studied business management.