Provo forces third game but Timpanogos responds to claim series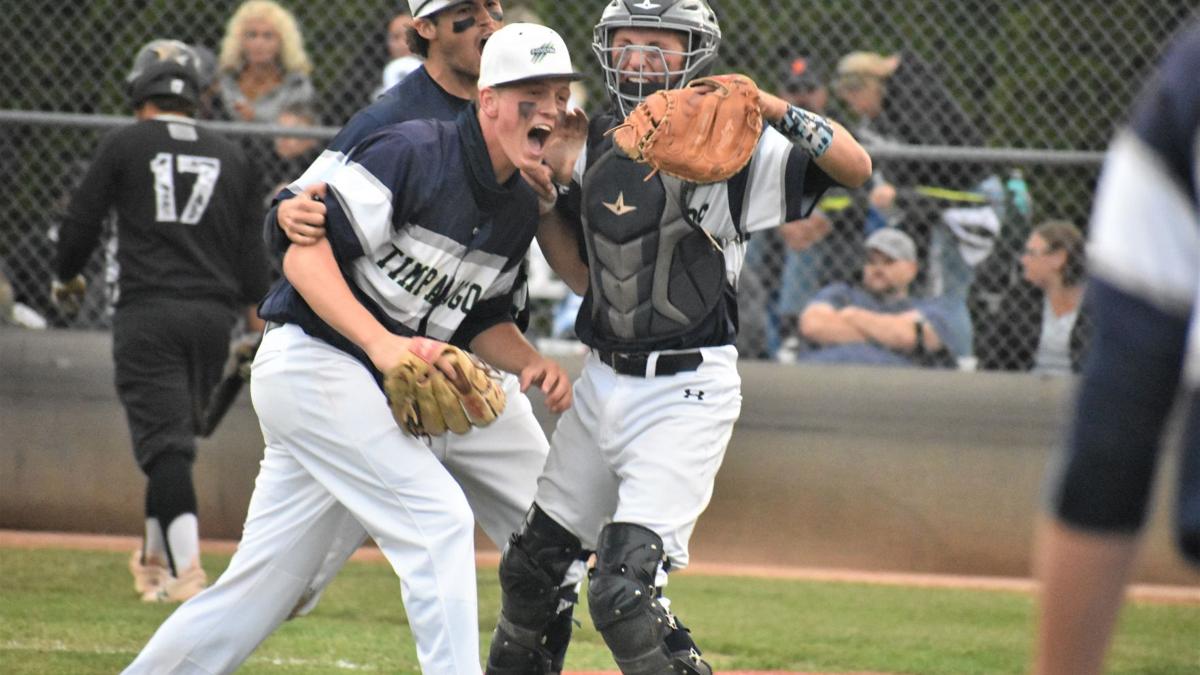 PROVO, Utah – Pushed to a third game in the best-of-three format in the super regional of the 5A baseball tournament, Timpanogos did what good teams do under pressure.
Sophomore lefty Billy Bird was terrific on the mound and Trevor Herrick sparked the offense in a 6-0 shutout to send the Timberwolves to the championship round at Salt Lake Community College on Monday.
"Hats off off to Billy for getting a zero and hats off to Trevor Herrick for spanking one for a triple to get us going," Timpanogos coach Kim Nelson said. "After the first game, we just told the guys, 'Let's just do what we've been doing the whole year' and they answered it."
Provo won Game 2 by a 9-5 count behind a terrific performance on the mound from Cole Mason and six RBI from Irvin Gonzalez.
Herrick tripled to open the third game and came in to score on a two-run triple from Carson Hawkes. Freshman Luke Livingston and Wil Thomas also knocked in runs as Timpanogos took a quick 4-0 lead.
"Our team, once we get hype, we get going," Bird said. "We're good at that. Once we get one hit, we're rolling."
The four-run cushion was all Bird needed. He allowed just one hit through the first six innings (two total) and kept the Bulldogs off the base paths while striking out five. He didn't allow a Provo runner past second base all game long.
"I just wanted to throw strikes," Bird said. "The game before we had too many walks. I just tried to limit bad pitches and make 'em swing."
Herrick tripled again and scored in the second inning and Jackson Bird had an RBI single in the sixth for the final margin.
Gonzalez singled with two outs in the top of the seventh but Bird struck out the dangerous Matthew Rhineer to end the game, leaping into the arms of his brother, Jackson, who caught both games.
"Hats off to Provo, they played well," Nelson said. "We don't know how to play in a tournament unless we move a game and move on from there. It just took three extra hours to get there."
Timpanogos (20-7) plays on Monday in the championship round. The Utah High School Activities Association will re-seed the remaining eight teams to set up matchups.
Provo 9, Timpanogos 5
The difference in Game 2 was pitching control.
The Bulldogs had it. The Timberwolves didn't.
Mason kept Timpanogos off-balance with a good slider and a high fastball that T-Wolves hitters couldn't keep up with. Mason allowed just five hits, three earned runs and eight strikeouts.
"I was really just mixing my pitches," Mason said. "When I mix well on days we get what just happened, a win."
Provo jumped on Timpanogos starter Dakoda West early, scoring three runs in the top of the first on two hits, a walk and two hit batsmen.
Timpanogos pitching had all kinds of problems, falling behind in the count frequently. T-Wolves pitchers walked seven and hit two other batters while the defense committed a couple of errors behind them.
Provo led 4-3 after three innings as the T-Wolves kept things close. The Bulldogs put up four runs in the top of the sixth, including a bases-clearing triple from Irvin Gonzalez.
Provo took a 9-3 lead into the bottom of the sixth when the home team mounted a charge. A triple from Ethan Edmonds brought one run home and Timpanogos loaded the bases with two outs when Billy Bird walked. Jackson Bird smacked a pitch deep to center field but Cole Frazier chased the ball down on the warning track to end the threat.
Gonzalez had a huge game for the Bulldogs, going 3 for 3 and driving in six runs. Rhineer and Alex Martinez added two hits apiece for Provo.
Tate MacGillivray had three of the six hits for Timpanogos, which won Game 1 in the series 11-1 on Thursday.
"We knew could take these guys," Mason said. "We had a really rough day yesterday but we knew they are pretty much the exact same as us, and we can beat them again."