Provo, Orem to move back to orange restriction level amid COVID-19 surge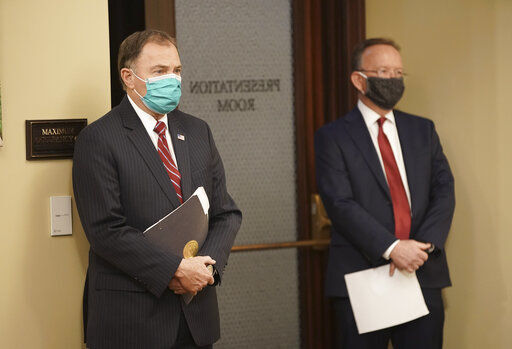 PROVO, Utah – The Utah County Health Department and Utah County Commission issued the public mask mandate late Tuesday evening, which took immediate effect and will last until Oct. 20.
"If the recent trajectory of cases were to continue, our health care system's capacity could be at risk and the entire county may be put back into the orange level restrictions," Commissioners Nathan Ivie and Tanner Ainge, and Health Director Ralph Clegg said in a joint statement explaining the mandate.
Commissioner Bill Lee, who has vocally opposed such a mandate, did not sign the letter.
Those under 5 years old, those with a medical or mental health condition or disability that makes them unable to wear a mask, and those whose job would make them unable to wear a mask are all exempted from the mandate. People also don't need to wear masks while eating at restaurants or performing strenuous physical activities, according to the public health order.
Earlier Tuesday afternoon, state officials spoke about the high countywide infection rate.
"We are seeing a significant case growth in 12 of our 13 local health districts, and Utah County is continuing to be the main driver of this statewide increase. Cases in Utah County grew by 81% in the last week, and they accounted for 42% of our state's cases despite having only 20% of the state's population," said Dr. Angela Dunn, epidemiologist with the Utah Department of Health.
Provo and Orem accounted for over 57% of the county's cases last week, she noted. The positive test rate in the county is 23%.
"If we remove Utah County's numbers from the state's numbers, the rest of the state is only at 10% (positive test rate). This indicates there is a lot of COVID-19 spread in Utah County, and we're likely missing positive cases because individuals are not getting tested in Utah County," Dunn said.
Because of that, Dunn encouraged anyone in the county with at least one of the six symptoms associated with the disease, as well as those who had been in close contact with a case, to get tested.
The move back to the orange restriction level means a gathering restriction of 20 people or fewer will be reimposed. Residents are directed to wear face coverings when in public. Team sports will be allowed to continue but without spectators, said Rich Saunders, interim executive director of the Utah Department of Health.
"We're optimistic that we'll be able to get Provo and Orem back to yellow, hopefully very soon, and eventually to green," Saunders said.
"This is the first time we've rolled backward," Gov. Gary Herbert said of the change. "We recognize that this is somewhat inconvenient. … I certainly believe a little pain now will be better than a lot of pain later."
The governor has repeatedly hinted at the possibility of a mask mandate but refused to issue one again on Tuesday, calling such a measure "overkill." Over the past several months of the pandemic, Herbert has reiterated that he prefers residents to wear masks voluntarily.
Provo Mayor Michelle Kaufusi in a statement called the move back to orange "disappointing news" and "a community rallying cry to more vigilantly follow health guidelines so we can quickly move back to yellow to protect our local economy from further damage."
"Provo City now begins the task of determining additional restrictions required by Gov. Herbert's directive and will be communicating these changes to our citizens. We appreciate the past and continuing efforts of our community to be compliant with safety guidelines. We hope the governor's announcement is not a cause of discouragement to our citizens and business owners, but rather becomes an incentive to show how effective we can be when we fight COVID-19 together," Kaufusi said.
While the two Utah County cities saw their restriction level increased, Rich County was approved to move to the green, or minimal, restriction level.
On Tuesday, Utah health officials reported 650 new COVID-19 cases of 6,908 people tested and two additional deaths. The rolling seven-day average for positive tests is 857 per day, and the average positive test rate is 13.9%. As of Tuesday, 161 patients were hospitalized with COVID-19 compared to 115 seven days earlier.
"And we have seen cases increase across all adult age groups in the past two weeks. Fifteen through 24 year olds still have the highest case rates, but they're not the only ones being impacted by this spike," Dunn said.
Late last week — when Utah for the first time confirmed daily new cases in the 1,000s — Herbert promised to meet with other state leaders to discuss the surge, warning again that more serious restrictions were on the table for Utah.
Salt Lake, Summit and Grand counties have all had their own mask mandates since late June. Since then, the areas that once experienced the highest per-capita rates of the disease have seen their cases drop — a success that officials have largely attributed to the mandates.
Provo and Logan have also previously issued mask mandates for anyone who is out in public in those cities.
Senator, mayor, gubernatorial candidate plead for mask mandate
When asked what it would take to convince him to implement a statewide mask mandate, Herbert said, "It would be overkill, I think, to in fact mandate statewide mask-wearing for those areas that it will do no good.
"And so we're trying to be selective, we're doing that I think in a very balanced, approached way, and I think that's good policy. Local people elected by their constituents know their demographics and their concerns and conditions better than anybody else. They should make that decision rather than us kind of dictating it from on high," Herbert said.
In a letter sent to Herbert earlier on Monday, Salt Lake County Mayor Jenny Wilson said her county has "exhausted most tools that will make a meaningful difference" and called upon the governor to issue a face covering requirement for the state.
"Today, I implore you to take it a step further and implement a statewide mask mandate. Not only does the health of Utah depend upon strong action, the future of our economy is at stake. The surge of cases in Utah has attracted national attention and it is not positive. The unchecked surge harms our reputation and fails to instill the consumer confidence we desperately need as we hope to salvage our tourism, ski, and convention industries in 2021 and beyond," Wilson said in her letter.
"Four hundred forty-six deaths as of today are too many. Nearly 65,000 Utahns afflicted with a disease for which simple measures will slow the spread is heartbreaking. Strong action by you today will mitigate loss and illness. Please Governor, we need you to move from requests to requirements," she wrote, adding that Salt Lake County's "proven" mandate has slowed the spread of the disease.
A statewide mask mandate by the governor should be a "last resort" but is needed in Utah County if authorities there won't take action to deal with the "unique situation with two large universities driving a spike in COVID cases," said Sen. Deidre Henderson, R-Spanish Fork, and the Republican candidate for lieutenant governor.
"Our county leaders need to take responsibility to protect public health and I would support them in imposing a mask mandate at this point. If our county leaders won't step up and take action, then the state will need to do it," she said. "I have always preferred the local approach, but if local leaders continue to abdicate their responsibility, then I support the governor doing what he needs to do to protect public health."
Henderson said her focus is on Utah County, but suggested action could be needed as other "hot spots" develop.
"I think a statewide mandate is the last resort — it doesn't make sense in every corner of the state to impose one, but if local leaders in hot spots like Utah County refuse to act in the interest of public health, then I support the governor in doing what he needs to do," she said.
The state senator tested positive for the novel coronavirus last month. She said she is still "not back to 100%. There are days when I still struggle and even still desaturate with exertion. It's hard for me to see people dismiss this as a cold or flu and be so cavalier about other people's health when the solution to economic, education and even entertainment barriers is so simple — wear a mask."
University of Utah political science professor Matthew Burbank said Henderson's call for a mask mandate in Utah County may be a case of the gubernatorial ticket "trying to play both sides" of the issue.
"It's a tricky position, right? Obviously, as an elected official from Utah County, she's in a position to make that statement," he said. But as a candidate for lieutenant governor running with Lt. Gov. Spencer Cox, "you would think even if she felt that way, she wouldn't be likely to make that announcement."
Henderson said her comments are her "own thoughts. I am not involved in those decisions on the state level."
Burbank said Herbert may have gone as far as he's willing to go in dealing with the deadly virus.
"He's really been very reluctant to take the step that obviously a number of other governors have taken in terms of a statewide mandate. He's really not wanted to go down that path. And, I think, for good political reasons for that. He's going to get a lot of pushback," Burbank said.
Instead, he said, the governor is "taking, once again, that sort of half step of changing the color coding and saying, 'Gee, we need to be more cautious here,' but really not changing a huge amount otherwise."
Still, Burbank said, if Utah's case numbers remain high, Herbert may have to reconsider a mask mandate.
That would "keep that issue alive in a way. I think the governor has tried to put it to bed by saying, 'I've sort of done what I can and anything else is a political stunt here.' But if we continue to see those numbers, I don't think he can get away with that. Either he's going to have to come out more strongly, or again, we might see Cox say, 'That's the way I'm leaning.'"
Chris Karpowitz, co-director of the BYU Center for the Study of Elections and Democracy, said Herbert's action Tuesday "increases the pressure" on Cox to talk more about a mask mandate.
"Is he willing to impose a mask mandate or not? What are the conditions, if any, under which he believes a mask mandate is appropriate? These are now more urgent questions that should be addressed by the candidate," Karpowitz said.
But Cox has made it clear he will not counter the governor's position. The lieutenant governor, who urged Utahns in a tweet before the June 30 GOP gubernatorial primary to "just WEAR A DAMN MASK (Please)," has said Herbert asked that he not "get in front" of him on the issue.
Cox's campaign manager, Austin Cox, said in a statement, "Both Lt. Gov Cox and Sen. Henderson support the actions taken by the governor today."
The Democratic candidate for governor running against Cox, Chris Peterson, a University of Utah law professor, has called for a statewide mask mandate and warned of what he sees as the consequences of Herbert not going that far.
"Color codes don't protect anyone, but masks do. Without a clear mask mandate, too many people will put others at risk. Many Utahns will suffer long-term lung scarring, heart damage and even death as a result of the administration's ongoing refusal to follow the guidance of scientists and medical experts," Peterson said.
Peterson said given the "testing positivity rates in many areas, a statewide mask mandate with reasonable exceptions is more needed than ever. Lt. Gov. Cox should do the right thing for our economy and public health by joining me in calling for a statewide mask mandate."
In Tuesday's Salt Lake County Council meeting during a briefing on her administration's COVID-19 efforts, Wilson did not directly address the governor's decision to again dismiss her and others' calls for a statewide mask mandate.
However, at the end of the briefing, Wilson called masks "the best tool we have" and urged elected officials to encourage the use of face coverings and the limitation of face-to-face interactions without masks.
"I think it's a simple ask," Wilson said. "We're just going to continue as we move forward to really push that forward. We're seeing that's the one tool right now that's effective."
BYU, UVU
The announcement of increased restrictions in Provo and Orem also came soon after the presidents of Brigham Young University and Utah Valley University together urged students to stay home except for essential travel amid Utah County's surge in COVID-19 infections.
In a joint letter Tuesday morning, BYU President Kevin J. Worthen and UVU President Astrid S. Tuminez called the rise in cases — which has been largely attributed to college students — "both alarming and unacceptable."
"We're concerned not only for your well-being, but also those in the local community who are affected by the trends we've seen in the last week," Worthen and Tuminez said in the letter.
"Behavior must change. We implore you to stay home except for in-person classes, work, church, and other essentials. We ask that you limit your social interactions to only those within your household and avoid small gatherings where individuals aren't wearing masks or maintaining physical distance," the university presidents said.
They continued to ask those who feel sick to stay home, and for those who test positive for the disease or are awaiting test results to follow quarantine guidelines.
"If circumstances do not improve within the next two weeks, more dramatic action will be necessary. This may include a two-week quarantine, closing campuses to the public or a complete retreat to all-remote instruction for the rest of the semester," the presidents said.
The deaths reported Tuesday — a Weber County woman and Salt Lake County man, both of whom were between 65-84 and hospitalized when they died — bring the state's death toll due to the disease to 443.