Provo's historic A-frame church invites residents to 'Bring the Light Home' with new campaign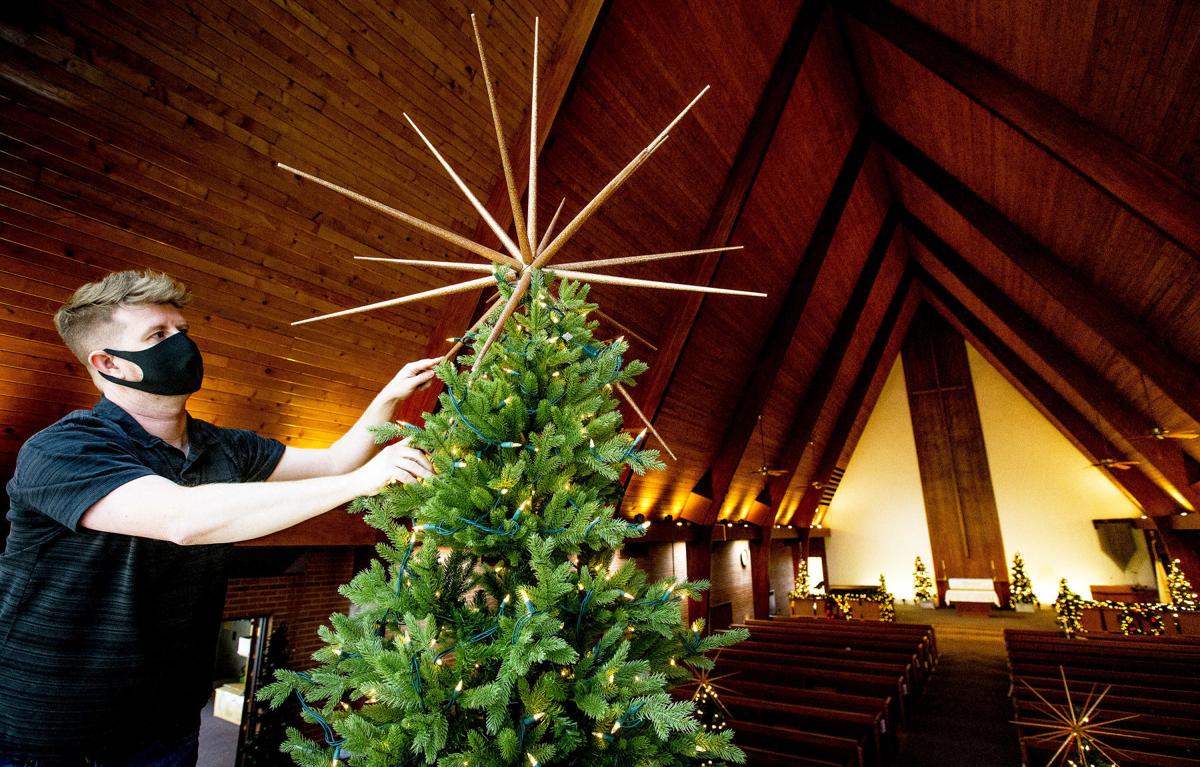 PROVO, Utah – She came to the Wild West nearly 130 years ago to provide children with an education, but what young school teacher Emily Clapp didn't know is how long her influence would remain in Provo.
According to the history of the Provo Community Congregational Church United Church of Christ, Clapp was sent to Provo by the New West Educational Commission.
The commission was concerned with the lack of formalized education in Utah, and Clapp was sent to establish a free public school.
"As well as teaching regular academic classes, Clapp was also expected to set up a Sunday School," said Dave Lewis, public affairs and building liaison for the Provo church.
Lewis is also the music director, organist and driving force — alongside Rev. J. Keith Cupples — maintaining the church's status as a major part of Provo.
"Ministers were soon sent for the Sunday School," Lewis added. "Due to increasing student numbers, a new building was built and named the Proctor Academy."
By 1919, Utah public schools were all offering free education, so Proctor Academy closed its doors.
That same year, all Methodist and congregational churches in Provo came together to form the Provo Community Congregational Church, which is now one of the congregations in the United Church of Christ, focusing on community, youth programs and activities, Lewis said.
The story behind its humble beginning has now been transformed into an iconic building and diverse congregation located at 175 N. University Avenue.
In 1922, the first buildings at the University Avenue location were built thanks to a $30,000 donation from the Meno Trope estate. According to Provo history, the downtown location was considered a controversial move that placed a church in a business district.
It was eventually accepted by the town leaders.
The building offered a kindergarten, a place for children to receive vaccinations and provided a community center with a stage, Lewis said.
"The church continued to grow as the influx of persons from outside the area came to work for the bustling steel industry and growing economy of Utah Valley," Lewis added.
By the 1950s, perhaps even before, the church had outgrown its now 30-year-old building, and with the help of its members and the community, officials raised $100,000 to add a new chapel and gathering spaces.
"The mid-century modern architecture, popular at the time, is a stark difference from the Mediterranean styling of the1920s building," Lewis asserted. "The phrase, 'it's that A-frame church on the corner,' is used to describe it by anyone needing directions."
The location of the church even inspired the renaming of the church's weekly and monthly publication a few years ago to "From the Corner," honoring the church's place in the community.
The church has hosted countless community groups and events, and despite the now smaller numbers of church members, it continues to honor its roots by serving the community.
It is at this building where church members and other local congregations gathered to start Provo's Food and Care Coalition.
There are about 50 regular attending members of the congregation at present, Lewis said, but the building is used for many other groups and organizations.
"These walls host support groups for those struggling with addictions, Scout packs and troops, wellness clinics, meals and items prepared for local outreach organizations, seminars, plays, recitals (there is a 12-step group and a recital happening tonight even as I share this with you), two community choirs, concerts, as well as worship services and activities that welcome all through these doors," Lewis listed.
For decades, the building has also been home to Easter and Holy Week community interfaith services and concerts, patriotic events, and messiah sing-alongs, Lewis noted.
Having recently celebrated 40 years, the beloved Carols by Candlelight, a tradition begun by civically-active Provo residents, the Monroe and Shirley Paxman's, have all taken place within these walls, Lewis added.
He said the church motto is, "You're welcome here, no matter where you are on life's journey."
Carols by Candlelight began in the Paxman's living room of their stately 1800s pioneer home in downtown Provo and continued to grow until it found a permanent spot at the Community Congregational Church.
Because of the pandemic, this year's Carols by Candlelight is reminiscent of those first celebrations at the Paxman's. The public is invited to "#BringtheLightHome" and share their experiences on social media using the hashtag.
To open the Advent Season, which began Sunday, and to prepare for the celebration of Christ's birth, the church is inviting residents to hold a Carols by Candlelight service in their own homes by lighting candles, singing carols and reading scriptures from the Bible as well as telling or reading Christmas stories.
Isaac Paxman, Provo's deputy mayor and grandson of Monroe and Shirley, has made a special video about the "#BringtheLightHome" efforts, which will air Dec. 7-25 on Facebook, YouTube and Instagram.
After the Christmas season, the church will shift to a new project, called "#SharetheLight."
Although it is a precarious time, financially, for many people, the 14-month "#SharetheLight" campaign is hoping to bring in $2 million to keep the church buildings sustainable and renovated.
Time has taken its toll on these old structures, which have become an iconic landmark in the area. Roofs and overhangs are failing, stucco is splitting and crumbling, facia and gutters are falling off, and windows are letting as much air through as they do water, Lewis said.
"Operating systems, electrical, plumbing, asbestos and finishes are all in need of replacement, removal or refreshing," Lewis reported.
The buildings haven't kept up with today's modern, higher-tech needs, either.
In many ways, these spaces are still trapped in the eras they were built. While they were beautiful, they are in a sad state compared to their former selves.
Roofs need replacing, water needs damage repaired and exteriors need refaced. Lewis said interior operating systems also need replacing, and spaces and finishes need updating and refreshing.
"A big goal is to provide, again, a space for the community to gather for uplifting events, much as the Provo Tabernacle once did, where inspiring music and word can be heard for decades to come," Lewis said.
This includes updating sound and lighting systems, video recording and broadcasting capabilities, and installing a beautiful pipe organ, which does not currently exist in the area.
"The church and its members, for over 100 years, have given to the community they love and continue to serve," Lewis said. "We are asking for your assistance in helping us continue and expand our mission to better serve, and more fully do so, well into the future."