Some question new mask rule for recreational sports in Salt Lake County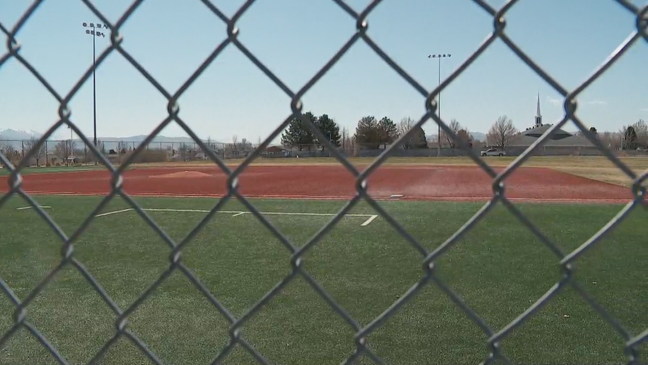 SALT LAKE CITY, Utah— A new Salt Lake County policy that requires people to test for COVID-19 or mask up while they play at Salt Lake County recreational sports facilities is raising questions by some players — especially those who play baseball or softball.
The rule affects both youth and adult sports including softball, baseball, lacrosse and soccer.
Brenden Powell, who played his first baseball game of the season at Qquirrh sports complex over the weekend, said it didn't make sense to him to watch some of his teammates, about 90 feet apart, masked up while playing, when people at a nearby pavilion held a birthday party where nobody was wearing masks or socially distanced.
"It makes you wonder if the mask is really needed when you are that distance from the next closest player on the field," he said.
Powell opted for the test in order to play mask-less. He thinks masks in the dugout are a good idea, but not on the field.
Martin Jensen, director of Salt Lake County Parks and Recreation, said the rule was imposed to keep COVID-19 cases down. He said even on an outdoor baseball field, there is some risk.
"Even though your outfielder may be socially distanced, if you are successful and make it to first base, you are going to be within 6 feet of that player," he said.
Jensen said the rule is made with the advice of health department professionals. Conversations happen on a regular basis and the next meeting between county government and health leaders happens this Friday. He doesn't know whether that meeting will lead to changes to the rule, but said county leaders are flexible.
Things could change. We are definitely open to adjusting this where it makes sense," he said.
Meantime, he said teams are expected to self-police testing and mask compliance, but county staff will make site visits to ensure compliance. Teams that don't follow the rules or have a COVID outbreak could be suspended from play.
Salt Lake County has made testing opportunities available to affected teams.
Here is the rule, according to Salt Lake County:
Mask Requirement:
This policy is being implemented for team sports where social distancing is not possible.
Masks must be worn at all times, no exceptions
If you opt to not follow the mask option, then teams will need to "test to play."
Masks are required at all times for county-run camps and clinics.
Concerning Test to Play:
All participants on a team must be up-to-date on their testing (every 14 days) or masks will remain required at all times.
Proof of recent testing must be provided by team.
Testing can be done at sanctioned free testing site listed on TestUtah.com or a designated site run by Salt Lake County Parks and Recreation.
All testing administered by Parks and Recreation will follow Salt Lake County Health Department and the State Department Health best practices to ensure that it will meet all privacy (guided by HIPAA) and safety standards.
Proper training and PPE will be provided to all testing administrators.
Testing will be administered by staff who have been trained by an EMT and medical professionals.