Utah's minority political parties welcome Oaks' talk disputing belief that Latter-day Saints should be Republicans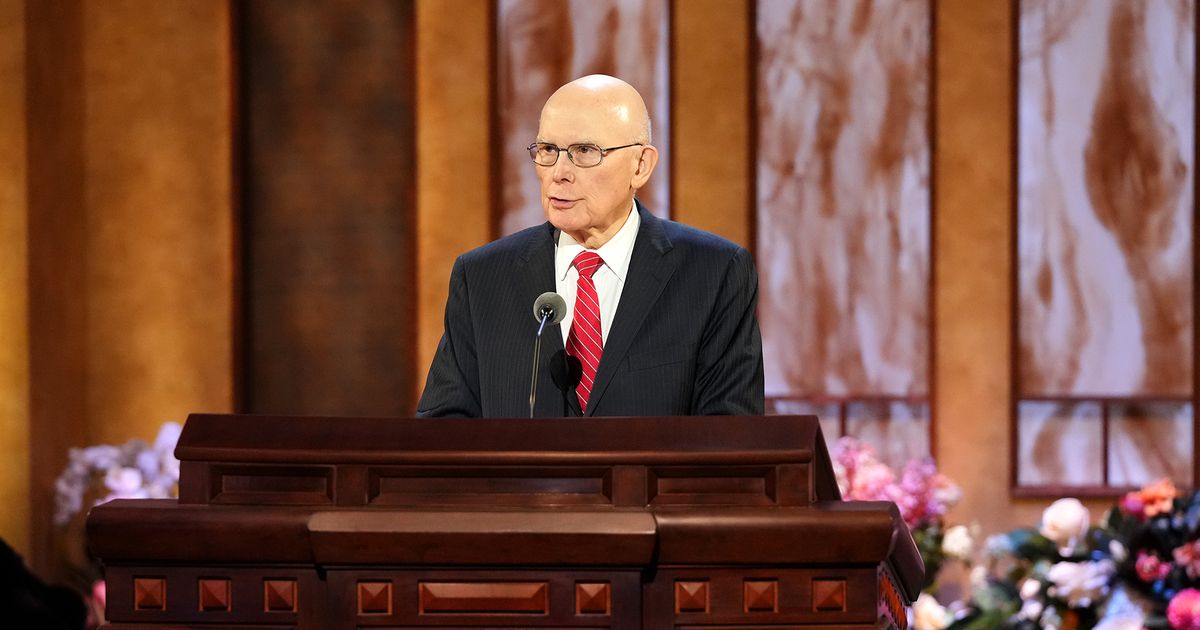 PROVO, Utah – While members of The Church of Jesus Christ of Latter-day Saints share certain religious beliefs, leaders of the faith reiterated Sunday that they need not hold the same political ones.
That sentiment — shared in a speech from Dallin H. Oaks, first counselor in the church's governing First Presidency — has quickly been embraced by members of Utah's minority political parties. They have long worked to dispute the assertion that being a good Latter-day Saint means you should also be a Republican.
"There are many conservatives particularly who believe … that there is sort of an understated or unstated truth from the leaders of the church that Republicans are aligned with the teachings of the church and gospel to a greater degree than Democrats are," House Minority Leader Brian King, D-Salt Lake City, said in an interview.
Oaks' speech, he said, was the strongest repudiation of that belief from a leader of the church that he can remember.
Most Latter-day Saints identify as Republicans. But in his speech, made on the final day of the faith's 191st Annual General Conference, Oaks said that no platform or individual candidate represents all the church's positions.
"We should never assert that a faithful Latter-day Saint cannot belong to a particular party or vote for a particular candidate," he said. "There are many political issues, and no party, platform or individual candidate can satisfy all personal preferences."
Members should instead "seek inspiration" on how to cast their vote according to their individual priorities, he said — a process that could even require changing party support or candidate choices from election to election.
"Such independent actions will sometimes require voters to support candidates or political parties or platforms whose other positions they cannot approve," he added. "That is one reason we encourage our members to refrain from judging one another in political matters."
Church leaders have made similar statements before, while at the same time urging members to become active in politics and even to run for office. But the comments at this spring's General Conference — the first since Latter-day Saint voters cast their ballots in last fall's highly divisive presidential election — seemed to strike a chord for some members.
Some saw in the speech what they wanted to see, with those on the left viewing it as a strong rebuke of the right and evidence to some that Oaks was a supporter of President Joe Biden.
Oaks' comments that "sovereign power in the people does not mean that mobs or other groups of people can intervene to intimidate or force government action," for example, rang to some as a repudiation of the attempted Jan. 6 insurrection at the U.S. Capitol, which was aimed at stopping the certification of the Electoral College vote cementing Biden's win.
An analysis of Oaks' speech by Religion News Service columnist Jana Riess found that most of the comments were, in fact, aimed at extreme right-wing members — though some more conservative members of the faith saw his remarks as aimed at liberal Latter-day Saints.
Others thought the widely varying reactions to the speech belied a core message that was more neutral.
State Sen. Todd Weiler, R-Woods Cross, seemed to address the speech as he said Sunday on Twitter that "If you're using General Conference to try to prove your political positions are correct and others are wrong, then you need to watch it again."
King agreed that the message — while perhaps particularly powerful for Utah Democrats who have often been questioned over their political views — applies equally to those who have wondered how members could vote for former President Donald Trump and still be faithful.
"To people on the other side of the political spectrum who have said, 'How can members of the church vote for Donald Trump?' [Oaks] is saying, 'That's not exactly kosher either' in the sense that you're engaging in another form of 'How can you vote for such and such a person and such and such political party and still be a member?'" King, who is LDS, said.
Former Utah Rep. Ben McAdams, a Democrat who is now serving in the bishopric of his Latter-day Saint congregation, said in response to the speech that as a person of "deep faith," he sees "good and bad in both parties" and agreed with Oaks that people should be willing to vote for good candidates regardless of party.
"I'm somebody who never hesitates to vote against my own party," he said. "When I'm in the privacy of the voting booth, I vote for the person, not the party, and I often vote for Republicans and Democrats."
Utah Democratic Party Chairman Jeff Merchant struck a similar tone in an interview Monday, saying he welcomed Oaks' sentiment "that there are positives and negatives about every political party."
He also said the comments could be indicative of "the church's willingness to be a little bit more open-minded than maybe it has been in the past" as some evidence shows younger Latter-day Saints and women are more willing to break away from the conservative viewpoints of church members at large.
Rob Taber, national co-chair of the LDS Democrats of America, said it was notable that the speech came just a few days after a recent Cooperative Election Study survey found nearly half of Latter-day Saint voters under 40 had voted for Biden in the most recent election.
"The church is politically diverse," Taber said. "That's something we need to recognize."
He said the statement from Oaks could go a long way toward ensuring the comfort of Latter-day Saint Democrats in the church and that people aren't judged "as being unworthy because of who they're supporting or which party they're choosing to support."
The United Utah Party — which advertises itself as a centrist, third-party alternative to the other major parties — also applauded Oaks' comments.
"We welcome his call for Latter-day Saints to not judge each other based on the political party they support," the party said in a statement. "His counsel to his fellow church members to not simply vote straight party in every election is also much appreciated, as is his instruction to prioritize moral values and to seek out and support the political party and candidates that best reflect those values."
The Utah Republican Party did not respond to a request for comment.