State leaders have known for decades that Utah kids could die in unsafe schools during an earthquake. They've taken little action.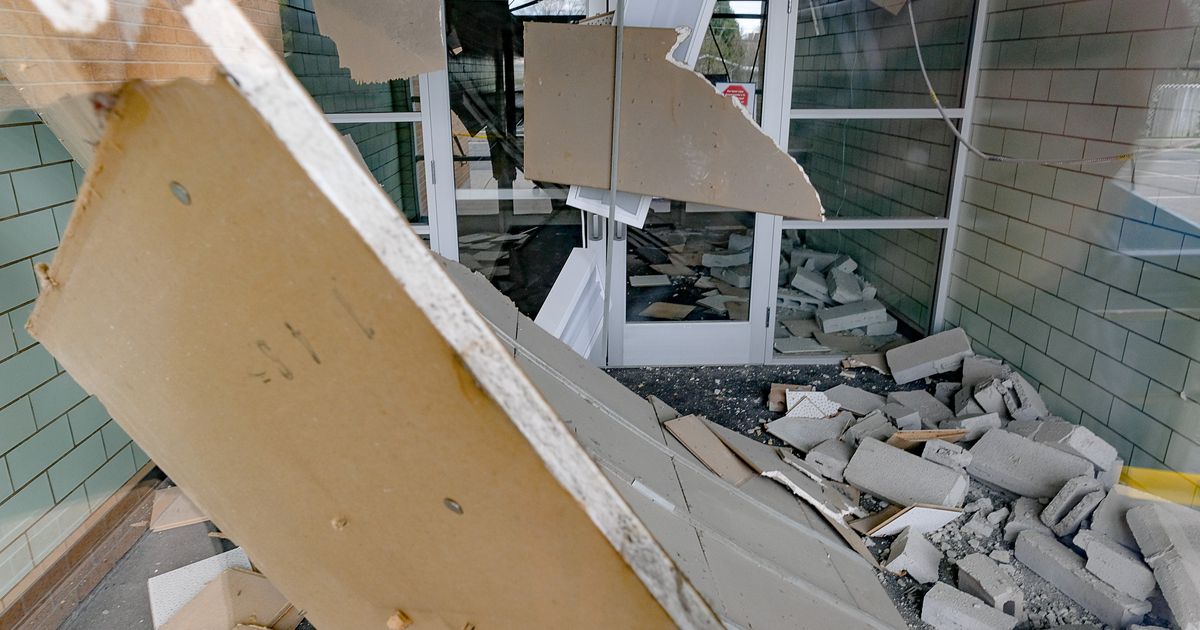 Utah – There are roughly 1,000 K-12 schools in Utah, and researchers estimate at least 80 to 100 — maybe more — are so unstable that they would collapse in a major earthquake.
In the small sample of buildings they've examined, they found holes in foundations deep enough that you couldn't see or touch the bottom. In a few, bricks were loose and slipping out of exterior walls at angles so odd that students could study them. In one, ceiling tiles randomly crashed down during the day. In another, there were visible cracks running up the hallways inside.
Many of those schools were constructed more than 60 years ago, before there were any building codes for earthquake safety. And seismologists predict the classrooms in them could be crushed in less than 60 seconds if the ground starts shaking as it's expected to when "the big one" hits the state.
If that happens during the school day, the thousands of students and teachers who go to those schools could be trapped.
But despite at least five separate reports to the state in the past 26 years repeating those estimates and warnings over and over, Utah leaders have taken little action.
Parents with kids at the schools that were included in that 2011 sample have a starting place to try to discover whether their child's classroom is safe. But that list is now 10 years out of date. And others with kids at older schools not surveyed still have no way of finding out. In fact, the state doesn't know exactly which school buildings are the most dangerous, because it's declined several times to fully fund any formal study to follow up on the estimates, examine all aging schools and uncover the full extent of the risk.
That is deliberate.
"They thought if we identified the schools, then we'd be culpable if, or really when, kids died," said former state Rep. Larry Wiley, a Democrat who represented West Valley City and pushed for years before he retired to have the state assess each K-12 building. His proposals never passed.
"They buried their heads in the sand even deeper with each report, each time these statistics were presented," Wiley told The Salt Lake Tribune recently. "So we're still sending kids to these buildings and acting like nothing's wrong."
Wiley, a longtime building inspector, said: "We know better."
The state also has rejected several bills and requests from school districts to fund construction where it's needed to bring buildings up to seismic code. Leaders point to "local control" and say it's up to school districts to assess what buildings need fixing and to budget for it.
That approach has created inequities between wealthier districts and lower income or less urban districts. In Salt Lake County, Murray, Jordan and Salt Lake City districts have been able to retrofit all of their buildings. But Granite District, which sits largely on the west side of the county, predicts it will take another 40 years for it to reach that point.
Seismologists and engineers say even the magnitude 5.7 earthquake that rattled Magna and much of Salt Lake County a year ago this month didn't serve as a wake-up call. Several school buildings were severely damaged — including Granite's West Lake STEM Junior High in Taylorsville, which will be permanently closed after bricks rained down from the roof in an entryway.
But with the pandemic pushing schools into online learning last spring, no kids were inside and nobody was hurt. That was extremely lucky, said Jessica Chappell, a member of the Utah Seismic Safety Commission.
She worries that the state doesn't understand, though, and will continue to walk away from the problem as it has, even though a larger and more damaging quake is anticipated.
"We have dangerous schools," she said. "It's not a secret. I just don't know what it's going to take to spur some kind of response to that. How do we stop requiring kids to attend school in these unsafe buildings? These buildings that could collapse on them? These buildings that could kill them?"
So far, telling state leaders about the problem hasn't worked.
'We have failed to act'
Those who study earthquakes in Utah are angry and frustrated and disappointed.
The Wasatch fault, a 217-mile network of cracks in the earth stretching from the northern border of Utah down through Nephi, has a 57% chance of unleashing a magnitude 6 earthquake in the next 50 years, according to the Utah Geological Survey.
But, experts say, their findings have been ignored and unfunded. Nowhere more so than with schools.
"It would actually be more accurate to say the effort [to retrofit schools] has been starved of funds," added Chappell, an engineer with Reaveley Engineers. The company has been hired by several districts — those that can afford it — to survey their school buildings after the state declined to fund safety assessments.
Even the seismic commission Chappell sits on, which was created by the state to inform it about earthquake risks, is staffed by volunteers who use their own time for research and are unpaid.
Members of the commission helped with the first major report specifically on schools presented to the state in 1995, the year after the group was formed. There was no response from the Legislature after the findings urged the state to develop a 10-year mitigation plan to improve the structure of schools and "not accept total vulnerability."
Then, in 2006 — more than 10 years later, with still no plan in place — the Utah Geological Survey released another report with informal data from 17 of the state's 41 school districts. Hundreds of schools, the researchers estimated, were out of compliance with earthquake codes.
They urged officials to determine every building that's unsafe for students. That still hasn't happened 15 years after the publication.
At the time, the Utah State Office of Education added in a follow-up memo that its records indicated roughly 58% of schools were built before 1975, when seismic safety became a requirement for construction. Not all of those will collapse, but they will all be unstable.
A few districts, especially those in rural or lower income areas, had a higher percentage of unstable buildings. In Box Elder, for instance, the district reported in 2006 that 24 of its 29 schools were not up to code. The facilities director there said, as of this year, five have been replaced; that would leave 19.
Some, though, said they couldn't afford to even do the screenings — let alone replace any buildings. The then-chairman of the Utah Board of Education said at the time: "One day we may discover ourselves in an earthquake, and kids will be killed. We will be extremely embarrassed that we have failed to act."
The board instructed districts to come up with their own 10-year plans, said Mark Peterson, the current spokesman. But there was no follow-up to ensure those were carried out or completed. The board also does not have the authority to allocate state funding to schools, so there was no check to cover the costs. The memo from the board encouraged its members to ask the Legislature for $25 million per year, plus inflation, for ten years to cover seismic safety upgrades. But their pleas were never answered and quickly fizzled out.
The inaction continued with another report in 2008. And another in 2011 — after the seismic commission won a federal grant to complete a "rapid visual screening" of 128 school buildings, to assess how well that sample would hold up in a major earthquake.
The in-person evaluations found that 77 of those structures were unlikely to withstand vigorous shaking; some might stay standing but with severe damage, others would collapse. None of those appeared to meet federal seismic guidelines.
The original report did not name the schools. But The Salt Lake Tribune submitted a public records request at the time and published the names of the 77 identified.