The game that defined Ty Detmer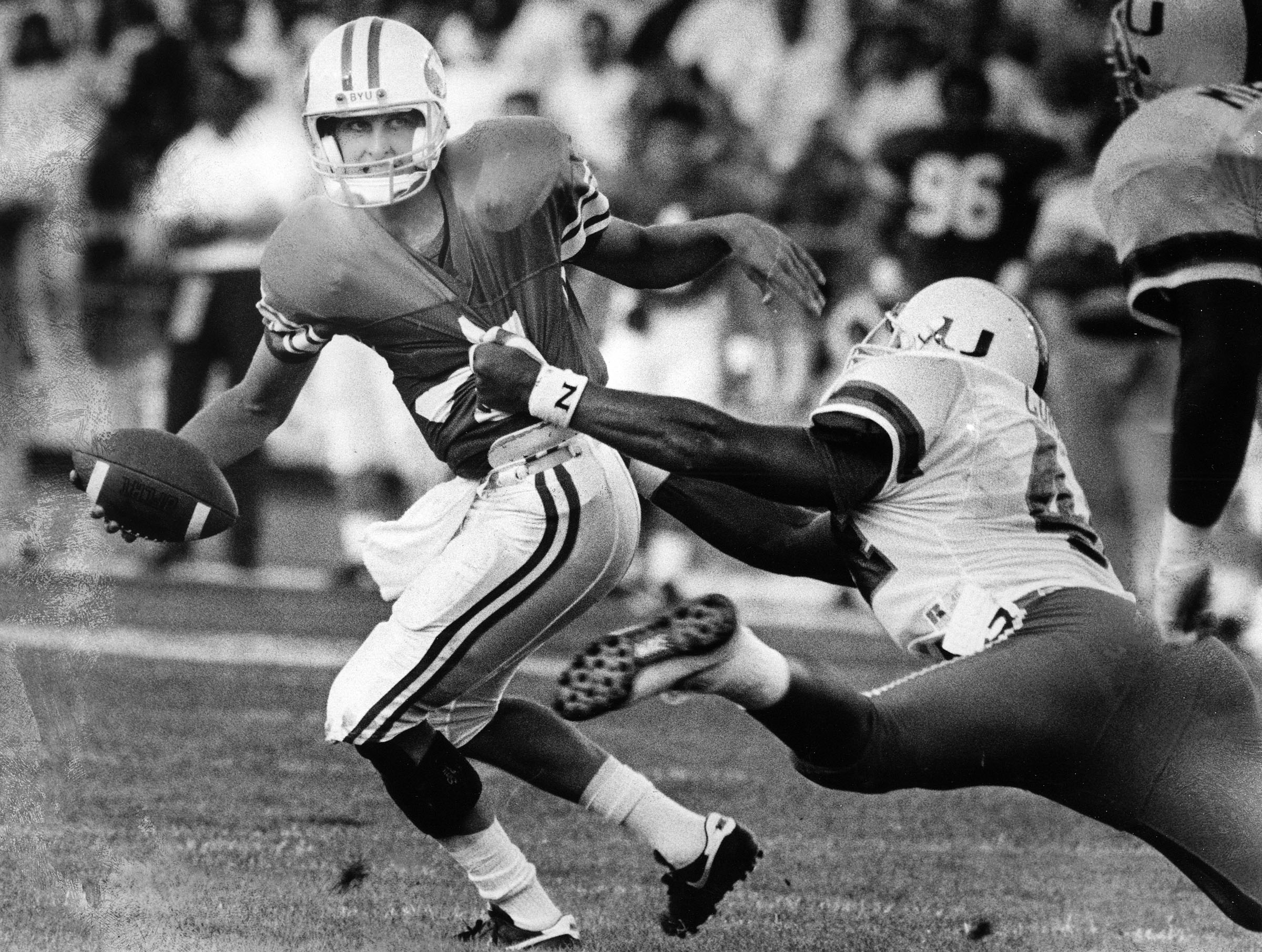 PROVO, Utah — The scar under Ty Detmer's chin has been a part of his facial veneer for 30 years.
It's a battle wound that reminds him of one of the greatest upsets in college football, a victory that launched Detmer to the forefront of the coveted Heisman Trophy chase. On Sept. 8, 1990: BYU beat defending national champion and No. 1 Miami, 28-21. It became a symbolic victory for the program and the junior quarterback. The scar is also symbolic. Detmer's indomitable spirit made him one of the toughest competitors the school has ever had.
Detmer had just taken a short drop and stood in the pocket, knowing tight end Chris Smith would open up on his corner route. Miami's defensive end came in unblocked as Detmer waited and just as he released the pass, the rusher hit Detmer under the chin with his helmet. He had a soft chin strap on that night, the last time he went without a hard one in his career. The impact split his chin and it bled freely, requiring eight stitches afterward.
BYU's win over No. 1 Miami that night remains one of the more electrifying sporting events in state history. Cougar Stadium, as it was called at the time, was packed and energized. Miami was the most dominating football program in the country, the Alabama of its time, with national titles in 1983, 1987, 1989, 1991 and 2001. Miami finished second nationally in 1986 and 1988.
On that night, Detmer put on a show for a national audience. He deployed a mix of quick-fire passes and deep drops. His remarkable talent for reading defenses and grasp of the location and routes of all his weapons was on full display. There is a YouTube video highlight of the BYU-Miami game and Detmer's performance underscores just how efficient he was that night.
BYU had no business beating Miami, but it happened. Miami was overconfident. A team known for its swagger, braggadocio and confidence in dominating foes was legendary in the '80s and '90s, yet BYU found a way to use that against them.
Back in the day, beating Miami was akin to beating Clemson or Alabama today. Just six years earlier, Boston College's Doug Flutie faced a defending national champion Miami team on the same field and became a legend with a game-winning Hail Mary pass to Gerard Phelan.
Previous experience key
The BYU win happened after the Cougars had lost at Joe Robbie Stadium in Miami two seasons before 41-17, and nearly everyone in the media, football experts from coast to coast, expected the same in 1990.
Well, check that, BYU players spent that summer knowing they'd get Miami in the Hurricane's season opener and they believed they could win.
A big part of that was Detmer, fresh off a phenomenal sophomore season where he and Houston's Andre Ware established themselves as the top quarterbacks in the country with eye-popping numbers. Ware won the Heisman that year, but Detmer had made a name for himself with 4,500 passing yards and a remarkable NCAA record 17.21 yards per completion. Detmer led the nation in pass efficiency his sophomore year at 175.6.
"The biggest thing is, I felt like we, as a team, could really beat them," said Detmer as he drove from Provo to Idaho Falls this past week after Memorial Day.
"Several of us had played against them in the Orange Bowl in 1988 and I remembered that game and the speed that they played with so I kind of knew what to expect going in," said Detmer.
Many of BYU's seniors were sophomores when they got beat by Miami in 1988 and players like Matt Bellini and others had felt the sting, power and talent of Miami's roster. They knew exactly what it would take to take on Dennis Erickson's team with All-Americans like Russell Maryland, and they'd had all offseason to think about it.
"We had our cheeseburger snack on Friday night and went out and stood in the tunnel there by the field. We just felt like we had a quiet confidence going into it, mainly because we had experienced playing against them," said Detmer.
"I think when we lost to them before, their starting four defensive linemen were first-round draft picks," said Bellini, now 51, living in Riverton, working as a real-estate agent.
"Back in those days, we moved the ball on everyone. Even when we lost to them in the Orange Bowl, we moved the ball on them almost the entire game," said Bellini. "We had a belief that we could score on anybody and we could score 50 on most with no problem."