Three Storylines That Could Determine Winner Of BYU/Gonzaga Game In Provo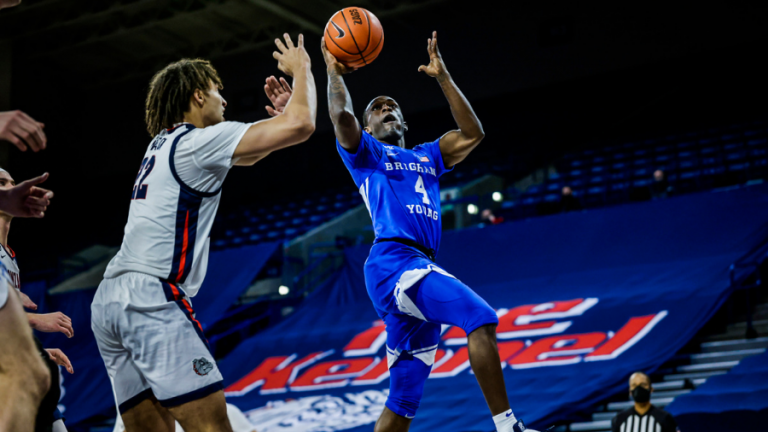 PROVO, Utah – It feels like a lifetime ago with everything that's happened in the world since. But BYU basketball's win over Gonzaga last year in the Marriott Center will forever stand as one of the greatest victories in BYU hoops' storied history.
The question now, can BYU pull it off again?
Monday night BYU will get their chance against the undefeated and No. 1 Gonzaga. This time it will be in front of an empty Marriott Center and a deeper and more talented Zags roster.
If there's anyone in the West Coast Conference that can surprise the Zags, it's BYU.
BYU has defeated Gonzaga six times since joining the West Coast Conference in 2011. That's tied with Saint Mary's for the most wins by a WCC team against the Zags since 2011.
The last time BYU faced Gonzaga, the Zags rolled through the Cougars to a 86-69 win in The Kennel.
What's going to happen Monday night? Here are three storylines that could determine the winner.
#1 The opening minutes
In BYU's loss at The Kennel on January 7th, Gonzaga jumped out to a 23-2 lead before BYU knew what hit them. The opening minutes will be a tone-setter in this game. Will Gonzaga jump out to another dominant start, or will it be BYU?
The Zags are coming off a game against Pacific where they were challenged for the first 30 minutes in Stockton. Damon Stoudamire's squad was physical with Gonzaga and took them out of their sets, forcing Mark Few to call early timeouts in that game.
If BYU wants to have a chance to pull off the upset, they will need a good start.
#2 Can BYU hold Gonzaga under 80 points?
Gonzaga is the nation's No. 1 scoring offense in the country this season. The Zags are averaging 93.3 points per game. Only six times this season has Mark Few's squad scored less than 90 points in a game. One of those games was against BYU, where they took the foot off the gas in the second half and ended up with 86.
Can BYU's offense score enough points to keep up with high-powered Zags? Mark Pope brought out a new starting lineup in a blowout win against Portland on Thursday. Pope was not committed to saying he would start that same group against Gonzaga. But inserting Gideon George and Caleb Lohner to the lineup with leaders Alex Barcello, Brandon Averette, and Matt Haarms gave BYU a big lift on the offensive end.
BYU is averaging 79.2 points per game this year, good for 40th nationally. Keeping Gonzaga under 80 points is a lofty goal, but it might be needed to give the Zags their first loss.
#3 Impact of no fans
Last year's BYU upset of Gonzaga was one of the top atmospheres you'll ever find at a college basketball game. You ask anyone from the BYU program involved with that game a season ago, the passion from the fans created an environment that will be remembered for years, and it played a big role in the Cougars knocking down the No. 2 Zags.
Now that's gone.
As of Sunday, no fans are expected to be in attendance for Monday night's showdown at the Marriott Center. Family and friends of the players and coaches from both teams will be allowed to attend, but that's it. What impact does that have on the game?
The game was originally scheduled to be played on February 27th to close out the regular season. BYU coach Mark Pope was holding out hope that fans would be able to attend by that time. But with the WCC moving games around, that doesn't appear to be an option.
The good news for BYU is that they've done an excellent job defending their home court in the Mark Pope era. BYU is undefeated in WCC games at home and has only lost two games at the Marriott Center since Mark Pope became the head coach in 2019.