Updates and highlights: No. 1 Gonzaga leads in second half at BYU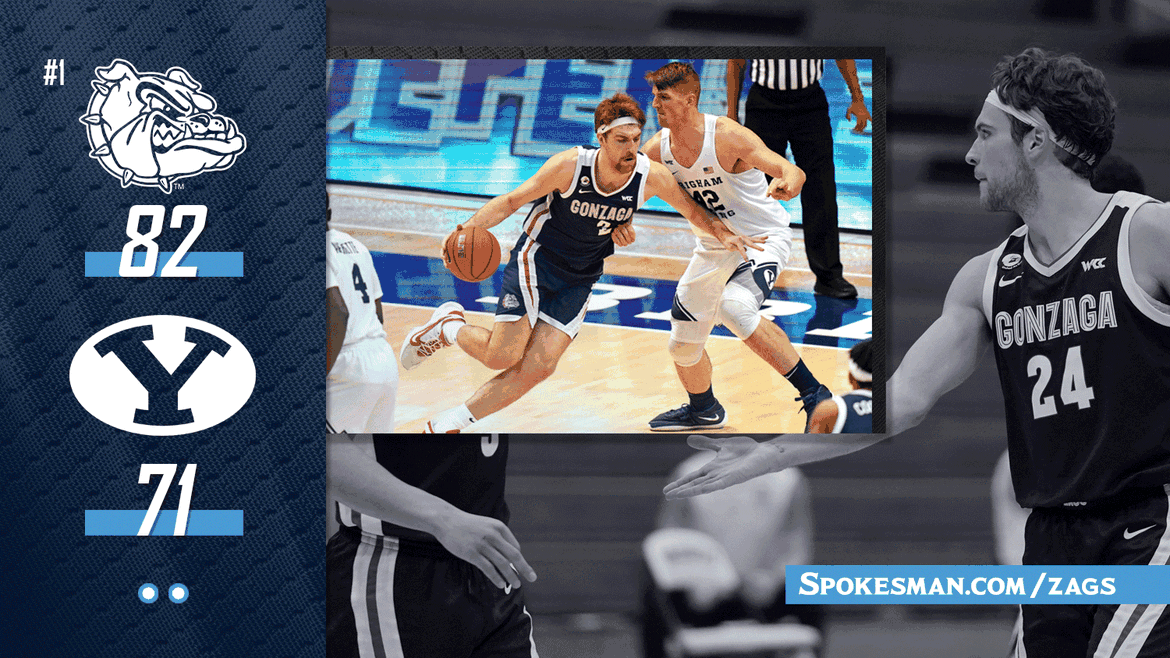 PROVO, Utah – Jalen Suggs scored 24 points, Drew Timme had 20 points and 13 rebounds and No. 1 Gonzaga started fast and raced past BYU, 82-71, on Monday night in Provo, Utah.
The Zags (19-0, 10-0 WCC) jumped out to 15-2 lead in the first three minutes of the game and BYU (15-5, 6-3) never got closer than six points after that.
Suggs went 10-of-18 shooting in 26 minutes. The freshman guard made 2 of 4 3-pointers and had five rebounds and three assists.
Alex Barcello led BYU with 20 points on 9-of-16 shooting. The senior guard had five assists, four rebounds and four turnovers.
The Cougars turned the ball over 19 times, which GU turned into 26 points.
Andrew Nembhard got his fourth start of the year for Gonzaga and scored 15 points. The guard replaced forward Anton Watson, who had started 17 of 18 coming into the game.
Gonzaga forward Corey Kispert added 13 points on 4-of-10 shooting.
The Bulldogs shot 50.8% in picking up their sixth win in their last seven games at the Marriott Center in Provo.
Gonzaga led by as much 22 in the second half.
Brandon Averette scored 14 points and Spencer Johnson had 11 for BYU, which shot 48.3%.
Gonzaga went 12 of 21 from free-throw line. BYU was 7 of 10.
The Bulldogs are next scheduled to play at San Francisco at 3 p.m. on Saturday.