Trekking up Y Mountain fueling BYU guard Jesse Wade's return to basketball court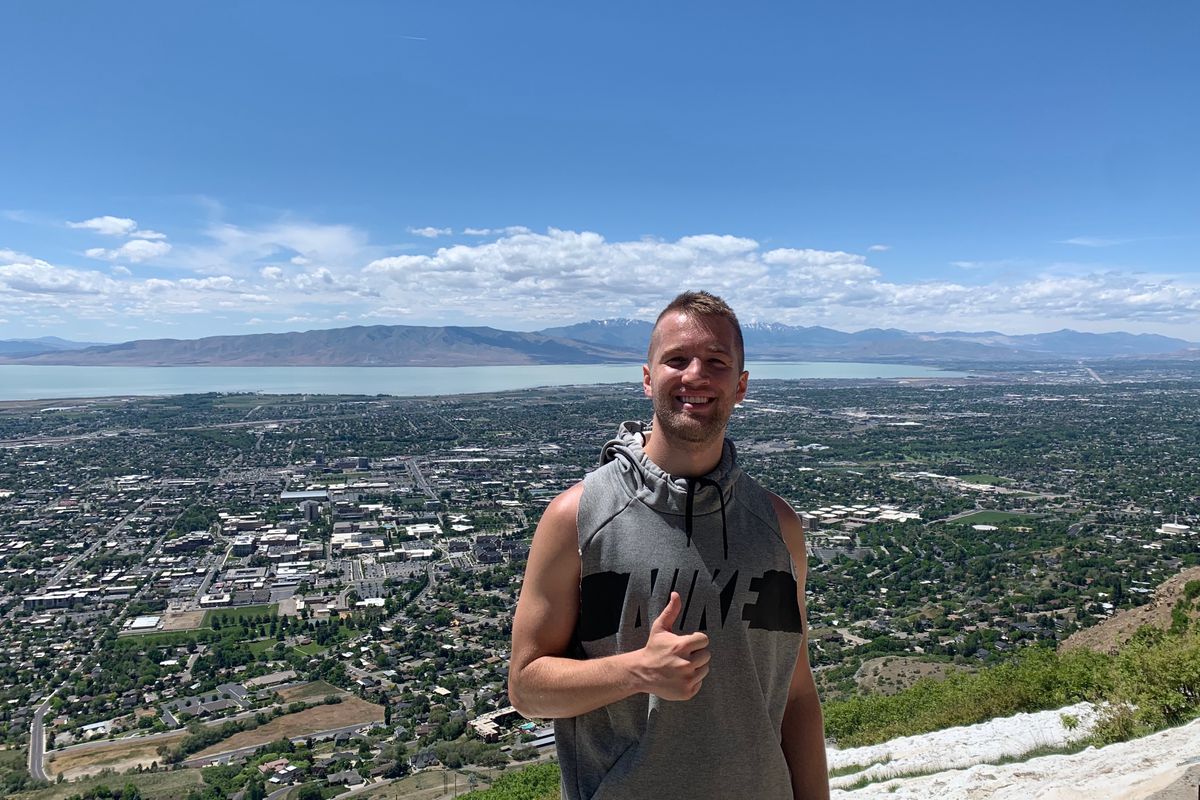 PROVO, Utah — When the coronavirus pandemic hit in mid-March, and almost everything was shut down, BYU guard Jesse Wade's dad suggested an unorthodox place for his son to continue to rehab his injured knee.
Eric Wade challenged Jesse to hike Y Mountain as a way to strengthen the knee and the adjoining muscles. At first, Jesse wasn't interested in taking a hike. His first thought was: "No way."
But he decided to give the trail that leads up to the famed block Y above BYU's campus — a strenuous 2.2 miles round trip — a try. And he's glad that he did.
"That hike is not easy. You're going straight up the whole time," Wade said. "The first few times I did it I thought, 'My legs are going to fall off.'"
It didn't take long for him to see the benefits of this exercise routine and he started hiking the dirt terrain and steep incline of Y Mountain six days a week.
Wade hasn't played much since he was named Mr. Basketball by the Deseret News in 2015 due to serving a two-year mission for The Church of Jesus Christ of Latter-day Saints to France; redshirting after transferring to BYU from Gonzaga; and suffering a major injury. For him, hiking the Y during the pandemic hasn't just been good for Wade's knee, it's also been good for his soul.
There have been times in recent months that the 6-foot-1 175-pound sophomore considered ending his basketball career. Hiking the Y has been a big part of his return to basketball — one step at a time.
"It's probably played the biggest role in my recovery other than people that have helped with my physical therapy," he said. "The elevation, the unevenness of the trail and all those things have helped my knee and helped my quad get back to full strength. It's been awesome."
Wade has hiked the Y in the mornings, in the afternoons and in the evenings. Sometimes, he's ascended Y Mountain more than once a day.
"You get up there and it's a nice view and you're able to think about a lot of stuff. The top of the Y has been a place of a lot of thinking and just about my path, where I've been, what I've done, where I am right now and what I want to do," Wade said. "I definitely see it as a metaphor for, to get to the top you've got to go through challenges and hard obstacles.
"That's what I'm trying to is I've had my fair share of these obstacles and challenges that have set me back. It's been hard but I want to get to the top. My competitiveness and desire to get to the top has really been the only thing that's kept me going."
No surrender
Coach Mark Pope has been tracking Wade's progress.
"He is not going to surrender. His whole college career, he hasn't been able to play because of various injuries," he said. "Jesse's like, 'I'm not stopping, man.' He's doing everything humanly possible to try to regain his health and get there. At this point, it's a matter of his determination, desire and relentlessness and the willingness of his body to jump in.
"I suggested that he start to take a Sharpie with him up there (to Y Mountain) and every time he gets up there, he signs his name or makes a little slash, a little mark. I don't know if he'll get thrown in jail for that. But I'd like him to leave his mark on the 'Y' in that real sense. I still think this kid hopefully can make his mark on BYU basketball on the court."
At Davis High, Wade averaged nearly 27 points, 3.5 assists and 2.7 steals per game as a senior. He shot 45% from 3-point range and 60% on 2-point attempts. He also showed toughness, having played with a broken wrist in a 5A state semifinal game against Brighton.
Wade signed with national power Gonzaga before departing for his mission. He returned in 2017 and played sparingly in 20 games for the Zags.
After his freshman season, he transferred to BYU, where he was sidelined for the 2018-19 campaign due to transfer rules.
In January that season, he went up for a fadeaway jumper and when he came down on his left leg, he felt a tremendous amount of pain. A visit to the doctor revealed that he had torn the patellar tendon, which extends from the thigh muscle and attaches the kneecap to the shin.
Doctors tried a number of methods to help repair the knee but Wade wasn't able to fully recover. Finally, last November, he underwent surgery. But it took a while for his knee to start feeling better.
Meanwhile, as tough as the physical challenges he's faced, the mental challenges were just as real.
"It got really bad. It hurts your confidence. There have been multiple times when I've thought it would be so much easier to step away from basketball and just call it quits," he said. "But once I realized that that was the easiest choice, I also realized that it was probably the wrong choice. Nothing in life that is good is easy. I've got a lot to prove, mainly to myself. I don't feel like I have anything to prove to anybody else except myself.
"That's been my main motivation throughout this — to push through it. In those dark times, it was hard mentally, emotionally, physically. Those were some long days. But I kept pushing through it a step at a time, a day at a time to get to where I'm at now, I feel good.
"I want it. That's the biggest thing," he continued. "When you want something, it's usually not easy. Sometimes you have to go through a lot of challenges to get to where you want to be — more than I would have liked, but it will be worth it in the end."
He credits his family — his wife, Jade; his parents, Eric and Amanda; his younger brother, Josh; and his three sisters for always supporting and believing in him during his challenges. His sister Olivia starred for the BYU soccer team as a freshman and is currently serving a Spanish-speaking mission in Houston. She's scheduled to return home July 13.
"When you're injured, those outside voices, and doubt, tend to go to a worst-case scenario," Wade said. "At first, it was hard to shut off that noise. My family's always been there for me. They didn't try to fix the situation but to listen to me and offer advice that's been helpful to keep me moving forward."
On Feb. 22, No. 23 BYU upset No. 2 Gonzaga in an epic moment at the Marriott Center. For Wade, it was a surreal experience to watch his current teammates beat some of his former teammates.
"Honestly, that Gonzaga game was one of the weirdest feelings I've ever felt in my life. So happy for my teammates and the win. Also weirdly sad for some of my friends at Gonzaga and some of those teammates that I had," he said. "The biggest feeling came from the fact that I wanted to be part of that, a playing part of that. Again, I was so happy for my teammates. They deserved it more than anything. But I just wanted to be a part of that. To not be was hard. I would have done anything to be out there, especially in that moment."