Utah bill criminalizes sometimes life-wrecking online impersonations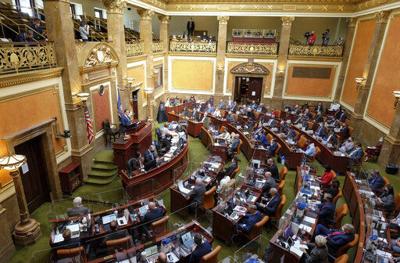 Utah – The Utah House has advanced a Clearfield legislator's bill to impose criminal penalties against perpetrators of potentially life-ruining online impersonations.
Two Davis County women testified to a committee on Thursday that their lives were upended by false statements made in their names on social media.
Amber Criddle told the House Judiciary Committee that amid the national furor last year over the killing of George Floyd by a Minnesota police officer, someone posted racist comments on a fake Facebook profile under her name.
"They said some very horrific racial comments that I would never say or support," Criddle said. "We got death threats and our children's pictures were posted all over the internet."
House Bill 239, sponsored by Rep. Karianne Lisonbee, makes it a criminal offense to "impersonate an individual online with the intent to harm, defraud, intimidate, or threaten" and cause "physical, emotional, or economic injury or damage."
A first offense would be a class A misdemeanor, which could draw a year in jail. Second or subsequent offenses would be treated as a third-degree felony, punishable by up to five years in state prison.
"People were talking about coming to our house with guns," Criddle said.
She said she and her husband were suspended from their jobs while the posts were investigated.
"We will have the repercussions of the impersonation and what was perceived of us for the rest of our lives," Criddle said.
Brandie Page testified she was harassed and misrepresented off and on for seven years by a perpetrator who "posted false allegations and (made) fabrications."
"We even have a recording of her admitting she did it," Page said, "but again and again I have been told there's very little the police can do."
She said she had to quit her business because the perpetrator was messaging her clients. Her family had to move, she said.
HB 239 would be a strong deterrent because perpetrators "would see some real consequences," Page said.
Ryan Holtan, who works on the internet crimes team in the Utah Attorney General's Office, said the bill would plug a major gap in the state's existing laws against electronic communication harassment.
"This particular criminal act has only become more common and more heinous as our lives continually become more and more online," Holtan said. "These acts do incredible long-term lasting damage that can resonate in somebody's life for years and years."
Holtan said impersonation is a tool used by domestic abusers, sexual abusers and cyber bullies.
Twelve other states already have laws criminalizing online impersonation, Lisonbee said.
HB 239 was approved unanimously by the committee and is on the House's third-reading calendar, meaning it may come up for a final vote this week.