Why BYU didn't add any signees outside of these 17 returners on National Signing Day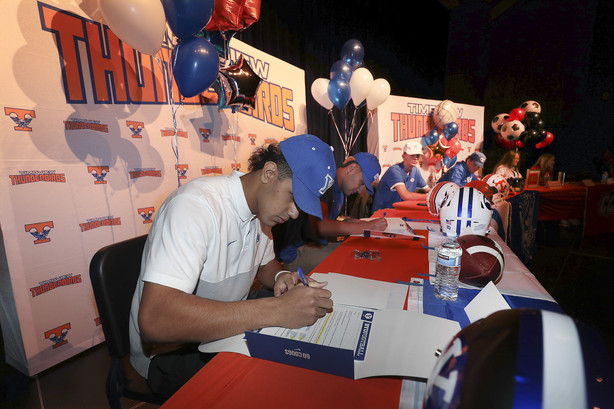 PROVO, Utah — The usual hum around the fax machine and celebratory videos from Twitter and Instagram were mooted on National Signing Day at BYU.
The Cougars, who signed 16 players during the early signing period just a few days before playing in the Boca Raton Bowl in December, didn't go out and get a lot of extra high school recruits between then and the traditional signing day Wednesday. That's good, since NCAA rules have marked most of the past year of the pandemic as a unique "recruiting dead period," with on-campus visits barred and contact limited to phone calls, text messages, Zoom calls and social media.
It's also good because the Cougars are under a well-documented scholarship crunch, one that could affect head coach Kalani Sitake's ability to bring in extra players for several years.
That's also the reason why seniors like linebacker Isaiah Kaufusi and tight end Kyle Griffitts elected to finish their collegiate careers after the 2020 season, which was played amid the coronavirus pandemic and therefore did not count as a year of eligibility for any player. (The Cougars also had a number of players declare early for the NFL draft, headlined by quarterback Zach Wilson, wide receiver Dax Milne and offensive tackle Brady Christensen).
Any returning seniors wouldn't have counted towards BYU's 85-man scholarship count, but they would have taken a spot on the 110-man roster — thus limiting the potential for newcomers and walk-ons for at least the next year.
While it may have been nice to have a player like Kaufusi or Khyiris Tonga, who has declared for the NFL draft and signed with an agent, to anchor the defense for another season, it's easy to see why they opted not to return. In reality, those players are doing the Cougars a long-term favor — even if they could've provided some short-term favors.
So the 16-player recruiting class will be the main focus of the newcomers in 2021. And while the 16 players are light on quantity, there's plenty of quality in the group — like convincing dynamic local pass rushers Logan Fano (Timpview) and John Henry Daley (Lone Peak) to stay home.
But the new class wasn't completely idle Wednesday, either.
BYU added 17 returning players, mostly missionaries for The Church of Jesus Christ of Latter-day Saints, to the program on National Signing Day — a bevy of talent that includes players from as far back as the 2019 signing class.
Because many of them, like former Lehi tight end Dallin Holker, signed, played and/or joined the team prior to 2021, those numbers won't go against the Cougars' 25-player maximum for each signing day. But the new recruits will help replace a standout group of graduated seniors and early departures.
"We greatly appreciate the various sacrifices and service these players have given and are excited to welcome them back to our program," Sitake said. "They each delayed their enrollment after signing and will now be able to come and make an impact on our team in 2021. The players we signed in December in this year's recruiting class are talented football players who will also have a huge impact on our program. I'm really excited about the athletic ability of this group."
Here's a look at BYU's returning signees. Click here for the original 16-member early signing class.